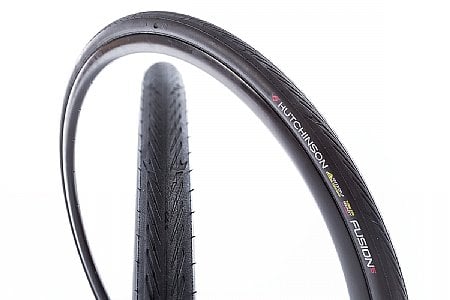 Cycling Enthusiast
SE Washington state
1 of 1 customers found this review helpful.
Good tire, good value.
I used these tire this past season - two in the back, one in the front. I had one flat (back tire) - but this was due to a big side wall cut, which I think was caused by a piece of metal flashing. I use these tires on ENVE 3.4's. The tires seat well (I use an air compressor and a Park Tool inflator head and Orange Seal). I like the feel and grip of the tires.
Thank you for your feedback.
2 of 3 customers found this review helpful.
Ea
The installation instruction state to use a CO2 to seat the tire and I tried a couple of times with the floor pump but could not get the tire to seat. Once I used the CO2 it seated right away.
Thank you for your feedback.
Cycling Enthusiast
San Francisco CA
7 of 7 customers found this review helpful.
These are solid tubeless tires!
On the recommendation of my bike shop I been using these tires (tubeless) for 2 years now (approx 15k miles). While I've lost partial tire pressure due to a puncture, I've not yet had a complete flat or a tire that I could not quickly pump up to pressure. I weigh approx 180lbs and ride these tires at 75-80psi for comfort on rides up to 200 miles a day on some very rough roads. I change out the rear tire approx every 2 k miles, or at the first sign of the tread wearing off. I change the front much less often. I've had good experience getting these tires to seat on the rim of my HED Ardense rims. I've tried another brand (Swalbe pro one tubeless) and have not successfully seated the tires, which could be my fault or a compatibility problem between the tires and the HED rims. These are good durable tubeless tires which I highly recommend especially if you are new to tubeless.
Thank you for your feedback.
Daily Commuter
Portland, OR
5 of 5 customers found this review helpful.
Easy Tubeless Setup - 1 month of use
This is my first tubeless road tire setup and after a month of daily commuting and so 30 mile rides they are working well. I mounted the 25mm tire on Velocity A23 rims. Used 2 layers of Stans tape and 30ml Cafelatex sealant per wheel. The tire fit snug but were not any more difficult to mount then my standard Conti tires. I was able to pump up both tires with a regular track pump, no air compressor or CO2 required. I started running them at 80 psi but they felt pretty hard at that pressure. I can't comment on the durabilty, I've only been riding them a month.
Thank you for your feedback.