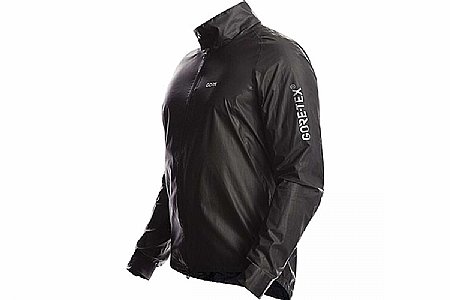 Amazing jacket
This is an amazing light and waterproof jacket. I had the good fortune to test them out on a rainy gravel ride recently and immediately had to have one. It's perfect for wet Western Washington springfall rides. The size guide is dead on. I usually wear LXL in most manufacturers, but 42-44 is XXL for Gore and the fit is perfect, enough room for layering, but not so loose that it flaps on high speed descents.
Thank you for your feedback.
Cycling Enthusiast
Seattle, WA
1 of 1 customers found this review helpful.
The perfect jacket for Seattle
This jacket has performed flawlessly throughout Seattle's rainy season. It's actually as rainproof and breathable as advertised, fits easily into a jersey pocket for mixed weather rides, and shows no wear after a season's use. It fits a little tight across the chest when upright so it isn't ideal for running, but fits perfectly in a riding position.
Thank you for your feedback.
Cycling Enthusiast
Durango CO
7 of 7 customers found this review helpful.
As Good As Advertised
It really is shake dry and waterproof. The cut is a bit relaxed relative to other Gore garments and thus I did not have to go up one size. It still provides room for a long sleeve jerseythermal layer if needed. My jacket tipped the scales at 120g and easily fit into a jersey pocket. It is a bit of a challenge to fit into its own zip up pocket, but that is a minor issue. The logos on the sleeves are a bit over the top, but I am sure Gore is proud of what they accomplished. Pricey, but get it on sale. A great, high performance, light, waterproof layer.
Thank you for your feedback.
Cycling Enthusiast
Ithaca, NY
9 of 11 customers found this review helpful.
Works as advertised.
Bought this to replace a 5 year old Showers Pass Elite 2.0 rain jacket. Rode in a downpour for about one hour in 65-70 degrees. Did not overheat. I am 5-10 and around 175 lbs with a 39.5 chest and 32 waist. I am a randonneur which rides brevets (125 miles and up) in all weather and wanted a jacket that was light weight, windproof and breathable. This checks all of these boxes. Wish it had more reflective material though I wear a reflective vest in low light andor night time conditions. Also because the zipper has small teeth you must be careful zipping it up or it can get snagged. The rear pocket is very small and will not fit a Samsung Galaxy S7 cell-phone. Not much room for more than a license or a small energy bar or keys. Barely feels like you are wearing anything. I put it in a small 1-quart ziplock bag in either my jersey or my handlebar bag or saddlebag to keep it from rubbing against other things. We will see how durable it is over time. Decided to buy this as there was a 25% off sale.
Thank you for your feedback.