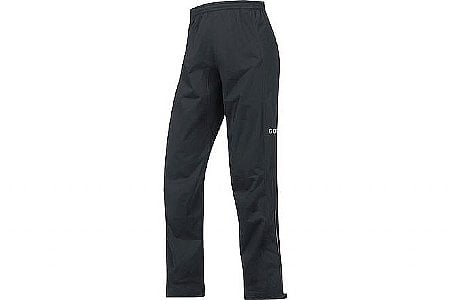 Nice fit, good cuff adjustment options
In prep for winter riding in Seattle, I tried all kinds of wet weather tights (showers pass, castelli, 4ucycling, arc'teryx). These gore bike wear pants are the winner for riding in medium amd heavy rain. 34 pants are a non starter (castelli tempesta), showers pass skyline are a weirdly snug and short fit.
I'm 5'10 175lbs with muscular thighs. I bought medium c3 gore pants. This fit was just right as an over layer that isn't too flappy.
Thank you for your feedback.
Competitive Racer
Orem, Utah
Good product
Ive used these a number of times in moderate rain with good results. They kept me dry and breath reasonably well, as well as any rain gear Ive used. I purchased them to use on a bikepacking tourthey are light and pack fairly small, they fit in a jersey pocket easily. They cut the wind 100%. The fit is cycling friendlynot too baggie, but not race tight fit either. If you ride or commute in rain, these are a great option.
Love the ankle zippers as I was able to pull these on and off over my riding shoes.
I am 6 foot and 170-175size large fits well.
Thank you for your feedback.