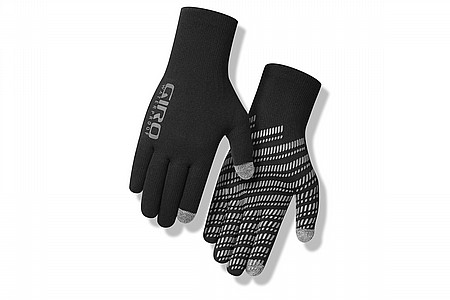 Daily Commuter
Vancouver BC
I love these gloves
I have small hands and struggle to find gloves that aren�t too long in the fingers. I bought the size small, which I think correlates to a size 7 glove. The stretchy fabric fits my short fingers well. I live in Vancouver and cycle year round. These gloves keep my hands dry. The rain does make the gloves soggy so I am careful to dry them off and leave them out so they are dry for my commute home. They are good to about 5 C, then my fingers freeze, so I�m looking for some warmer for cold days.
Thank you for your feedback.
Daily Commuter
Vancouver BC
0 of 1 customers found this review helpful.
Buyer beware of design flaws
I'm sorry to report they have performed quite disappointingly overall especially given the relatively high cost, and the Giro brand name, I'd expect them to perform much better.
These are my main issues:
1. Within even a few weeks, they were already starting to fray, especially at the fingertips. I realized this was by contacting Velcro that is seemingly on all my other bike gear, like jacket/panniers, bike bag
2. The Touchscreen Tip feature has already stopped working on all 4 fingertips - likely because those are the tips that got frayed the most
3. I use them often to Bike to work in BC. Websites claimed they were rated from around 2 or 5degrees C.
Even under 10 degrees, I find my hands cold. They are indeed waterproof, but they are not windproof, so I think the windchill transmits the cold.
Pros: they are extremely comfortable and lightweight. And they are actually waterproof.
Thank you for your feedback.
Competitive Racer
Indianapolis, IN
1 of 1 customers found this review helpful.
Decent gloves but not quite waterproof
Gloves are good for that 40-60 degree weather. They kept me warm in that range. I like the fit and the feel from the gloves. I've used them in a super light rain/drizzle and they kept my hands dry. I wore them during a steady light steady rain and my hands were super wet after 20 minutes. If I need to keep my hands dry I will stick to the winter gloves with Primaloft.
Thank you for your feedback.
Cycling Enthusiast
Chicago
Gloves that you can put on when your hands are sweating
These gloves keep your hands warm and dry. These stretch just enough that your hands slip right back in if for some reasons you want to take them off. Use cool temps 40-55 degrees.
Thank you for your feedback.
Cycling Enthusiast
Boulder, CO
1 of 2 customers found this review helpful.
Good fit, warrm on a cool day, good grip
Gloves fit well based on hand measurement and size chart. Easy to get on my hands. Snug, yet comfortable, fit thanks to slightly stretchy fabric. Good grip on bars. Fabric is not great for nose wipes. Would recommend them, at least compared to what they replaced -- some heavier, not-stretchy gloves that were a bit small and hard to get on and off.
Thank you for your feedback.
Cycling Enthusiast
Portland, Oregon