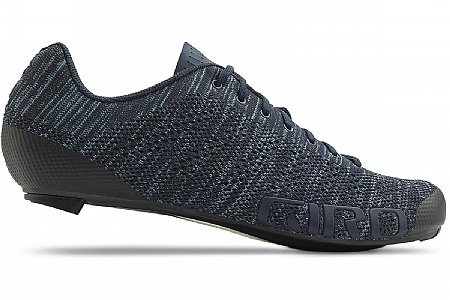 2 of 2 customers found this review helpful.
Super cool shoes indoors and out
Big fan of Giro Empires for my low volume, flat feet. This innovative knit model doesnt disappoint. Bought these because I was trashing my other shoes sweating it out indoors on the trainer. These are really well ventilated , and after a 2hr Zwift session my feet dont feel like theyve been in a sauna. They are pretty narrow for a medium width though, especially in the heel and forefoot, so if you have wide Fred flintstone feet look elsewhere. Same sizing as my Empire Acc, and Shimano RC701- all 44. The stock footbed is above average quality, very comfortable and should work for most feet. You get a spare set of laces too.
Super comfortable like slippers and feather light. The lower end EC70 carbon soles feel great pedaling, and are plenty stiff for my 158lbs and puny watts, but if youre a big power guy or sprinter, I could see how you may want for something stiffer. Look awesome too (greyhighlight color), cant wait to rock these outside when the weather warms up.
Thank you for your feedback.
Competitive Racer
Kirkland, WA
Great shoes for my narrow feet!
These are great shoes for my narrow feet. The laces allow me to adjust the fit to exactly what I need. Way better than even BOA which I've found I have to close all the way to keep my feet from slipping. These shoes are also extremely well ventilated due to the mesh uppers. They may be a little cold for winter riding outdoors, but I've found them to be great for indoor training. I purchased during a BTD sale, so the price was great. Thanks BTD!
Thank you for your feedback.
0 of 1 customers found this review helpful.
Airy and cool
There are many things to love about the Empire Knit Shoe and one issue that should be addressed by Giro with the next redesign.
I have a fairly wide fore and midfoot, but narrow heel (nobody is perfect) and despite the reputation of Giro shoes as narrow, these fit very well. The Knit material is far more forgiving than the most common synthetic materials used in cycling shoes these days. It is almost akin to natural leather, with the added bonus of all the extra ventilation. It stretch and confirm to the shape of foot and so far, I have not experienced. The heel is good and I have not experience any lift. My other shoe (Specialized S-Work 6, both in 46) has a roamer toe box (although it feels narrower as there is very little give) and a far more secure heel cup.
I also love the lace, although, unless you are a true acrobat, you cannot adjust on the fly.
The one thing that can be better is the sole. The EC70 sole is good, but not outstanding and compared to my S-Work, it feels like a wet noodle. I hope Giro will decide to use a stiffer one in the future.
On the road, or as I am using this shoe, indoors on the trainer, it is super comfortable. The knit material is supremely breathable and I have to yet to experienced, hotspots, hot foot or sweating.
So
Pro Super breathable, near costume fit, relatively cheap
Con Sole should be a little stiffer (even if it is more expensive)
Thank you for your feedback.
Cycling Enthusiast
san francisco, ca
2 of 2 customers found this review helpful.
Comfortable, well fitting shoe. Breathability is nice for warmer weather. Stiff yet forgiving sole.
Been a big fan of the Giro Empire series ever since they were first released. Own the original, ACC, SLX, and now E70. They fit well with a roomy toe box and I like the laces which allow more customization for fitment depending on the ride.
Pros These are the most comfortable of the series in my opinion due to the softer knit uppers. They are also more breathable which will be nice for warmer weather conditions.
Cons Not sure how they would feel once the weather gets colder - toes may get too chilly and numb. I feel like the sole has more flex in it compared to the SLX and ACC when putting down hard efforts, but it's certainly no slouch.
With the softer stretchy uppers, slightly more flexible soles, and great breathability, I think the E70's are the perfect shoe for longer rides (centuries, double centuries, brevets, randonneurs, etc) in warmer weather. Lastly, I love the rad styling, especially in the multi-color!
Thank you for your feedback.
Cycling Enthusiast
Frederick, MD
1 of 1 customers found this review helpful.
Very comfortable well-made shoe
I am familiar with Giro shoe products. The E70 seems to fit a bit more snug but is still extremely comfortable. I prefer lace-up shoes to strap and buckle, they are more comfortable. A very solid sole when pedaling. I also like the look of the mesh. I wear an 11US size and the Euro45 fits well.
Thank you for your feedback.
Feel great!
I wore Sidi only for 10 years because they felt great. Two years ago they started to hurt my feet. I tried at least half a dozen pair of new shoes various brands since , and none were pain free . These have been the best, better than some costing twice as much. The soft top makes a big difference for me. I use the carbon SuperFeet insoles with these and they got great.
If the shoe fits wear it. I bought two pair of
these from BTD. Really nice to ride again without foot pain finally!
Thank you for your feedback.
Competitive Racer
Houston , Tx
Competitive Racer
Houston , Tx
Casual Cyclist
Roseville, CA