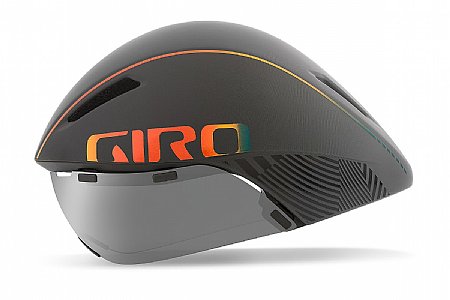 Competitive Racer
Minneapolis, MN
2 of 2 customers found this review helpful.
Great upgrade from the Selector
I was running into issues with my Giro Selector's tail disconnecting in T1, so the Aerohead was already on my wish list. BTD had it as a mid-month markdown for around half price and I grabbed it immediately.
Overall it's much better than the Selector. It fits me better (Selector pressed against my forehead uncomfortably), runs slightly cooler, and is faster to put on & take off. It's a little weird having the visor against your ears though. If you're looking for a TT or tri helmet, this one's great.
Thank you for your feedback.
Competitive Racer
Phoenix, AZ
Loving this helmet.
Recently upgraded from an old Giro Ionos and was looking for something more aero to use in century races. The fit for me is great, as was the old one. I was concerned about the Mips making the helmet feel like it was riding too high, but that is not the case. Also, ventilation was a big concern for me and it is definitely hotter than the Ionos due to air flow (like 35% less maybe???). However, on the road it feels like a reasonable compromise in order to get some aero benefit, especially when using the visor. I love the visor and will put up with a hotter head and a slight weight penalty to keep it. It is heavier than my Ionos & sunglasses combo by 48gr. Some of that is the Mips, of course, and the price for added safety.
Thank you for your feedback.
Excellent Fit! Super Aero!
Switched from the Air Attack, same great fit, way more aero. I saw at least 1mph gain over a known bike route I've been riding for years. Th visor provides great vision and wind shielding and flips up out of the way very easy. And Bike Tires Direct always has the best price or they will if you catch one of their awesome sales. A great product.
Thank you for your feedback.
Competitive Racer
Newark, DE
GREAT TT OR TRI HELMET
This is a great TT helmet that fits extremely well and provides plenty of aeration to keep your lid cool, much unlike its competitors. This was a real steal on Bike Tires Direct at % off the price. Why buy anywhere else when you can enjoy savings like this!
Thank you for your feedback.
Awesome TT Helmet
I bought this helmet in White for summer TT rides to go along with my Smith Podium which I truly love. It was a price thing for me to order the Giro instead of another Smith Podium in white. Now that I have both I really like the Giro as much, or perhaps even more than the Smith. Both shields work well and have great airflow. It comes down to which one you think looks better and price. Cant go wrong with either.
Thank you for your feedback.
Competitive Racer
Blue Ridge Mountains, NC
Initial Impressions are good
I've been a serious TT racer for over ten years now, so I'm always looking for an edge. Over that time I've tried numerous aero helmets, from the original crazy-long-tailed Spiuk, to Rudy, Bell, older Giro's, and finally the new Smith Podium. The new Smith is nice and well made, but I must say, the wind passing through its vents causes it to emit an extremely loud, high-pitched whistle that is highly annoying. It was so loud, in fact, that the first time I heard it I thought someone was screaming at me!
I have not yet worn the new Giro in competition, but from my initial impressions from adjusting the fit on the trainer, I think it will work well. The fit is solid, visibility is indeed excellent, and the brow of the helmet does not impede my vision, which has often been an issue with other brands. I was disappointed to learn, however, that only the Ultimate version comes with a pod and a clear lens. Those can be purchased separately but for another hundred bucks! Though I did score a good deal on a sale, the lack of those essentials keeps me from rating it five stars on value. After I get a chance to ride it, perhaps I will give it five stars overall-as long as it doesn't whistle.
Thank you for your feedback.
Cycling Enthusiast
Lincoln NE
1 of 1 customers found this review helpful.
Great right outta' the box
Purchased before Senior Games TTs. Only used twice, on open road prior to games, as prefer an open face helmet with sunglasses and mirror for safety on county roads. Helmet worked great right outta' the box.
Great fit. Shield snaps-in intuitively. Good ventilation requiring only a little air coming in from the front or crosswind. The MIPS seems to hold the helmet off the top of the head for straight through ventilation. In fact, I happened to see my reflection in car window and you can see light in the front holes all the way through to the exit holes. Got 1 mph faster down my benchmark hill (over my Air Attack without shield, max out gears, drop into full tuck.) At Sr. Games TTs, easy to snap-in shield prior to clip-in and hold. Comfortable, ventilated, good vision forward and sides. Wish Giro would make a helmet shell for Aerohead similar to one for Air Attack.
Thank you for your feedback.
absolutely faster
Did a comparison between three helmets, a basic giro road, the giro advantage TT and the mips. The advantage was about 2 Kph faster than the road helmet and the mips was a minimum to 3 kph. The conditions were windy and the watts used to compare were the same.
Thank you for your feedback.
1 of 1 customers found this review helpful.
Well made, no fit problems
All aspects of the construction inspire confidence. Size M fits me the same as several other Giro helmets I've owned. Visor snaps securely with magnets, including upside down for warmup. I will try swim goggle anti-fog stuff next time as visor fogged up on a max effort 35 degrees F day, damp but not raining. Tinted visor is fine on a gloomy March morning. Won't need the $60 special order clear. Short tail, sits nice and low for my position. Did the research, don't think there's a better TT lid out there. Ultimate version is practically identical except it has no (!) vents. Would be smooth and easy to tape the vents on this version (to save what 2 secs over 12 miles?)
Thank you for your feedback.
Competitive Racer
Clackamas, OR
1 of 1 customers found this review helpful.
Not your fathers TT helmet!
This is a modern take on the classic TriTT helmet so don't expect old school styling. This thing looks and feels high tech. Thankfully the numbers in the wind tunnel don't lie, and if you trust them, they claim this helmet to be 15 watts less drag than the old Advantage helmet. That equates to something like 42 seconds over an ironman length but for us mere mortals, It simply means more speed with adequate ventilation and comfort whether you ride at pro level pace or not. Fitment on this helmet is similar to other Giro helmets using the rocloc system, however the visor does come close to ones face. This takes some time to get adjust to, but it feels solid and the neither the visor nor brow of the helmet seem to interfere with my field of version. The shorter tail means you can move your hear around without bumping into your shoulders or sticking up into the wind as your head dips from either fatigue or just re positioning on the bike. I'm excited to use this in our local time trial series next month and found it to be a solid upgrade over my old Lazer Tardis. The biggest thing for me in a helmet, especially an aero helmet, is that I forget I'm wearing it. If my helmet is bugging me or moving around, it's difficult to focus. After putting this on, my only reminder was the dark tint on the visor which works perfect in most light conditions.
Thank you for your feedback.
0 of 3 customers found this review helpful.
Helmet has a good fit on my head but the visor digs into my cheeks. Poor overall design
I'm a diehard Giro helmet user and have never found them to fit poorly. Unfortunately Giro messed up with this one. The visor sweeps back and down too far and digs into my cheeks. I don't even have a big head so it seems that they just missed the mark with this one.
Thank you for your feedback.
0 of 3 customers found this review helpful.
Lousy fit for me
Well, this certainly is a nice looking helmet but the fit is strange. I've been using Giro and Bell helmets for many years and this is the first one that simply doesn't fit. The visor is angled back too sharply and pushes down on my cheeks no matter how I position the helmet so it was very uncomfortable. I returned it and bought a Bell Javelin which fits perfectly.
Thank you for your feedback.