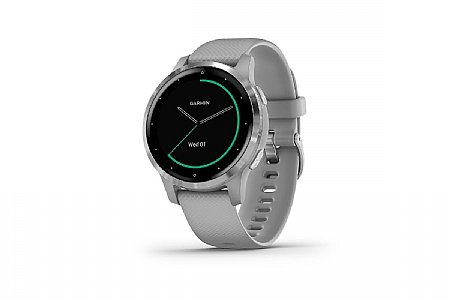 Cycling Enthusiast
Williamsburg, VA
2 of 2 customers found this review helpful.
Elegant Substitute for the Fenix
It was a hard decision to buy either the Fenix or the Vivoactive. But, I have a general tendency to over-buy technology. I've never been disappointed over buying tech but I find I never use half of the capabilities. But when I looked at buying the more elegant looking Fenix the cost compared to the Vivoactive was a big number. I'm happy to say the Vivoactive meets all my technology requirements and I'm still not using full functionality. I'm an avid road cyclist and use my Vivoactive to track my rides. My only complaint is that I ride with an Edge 1030 and Garmin Connect does not synchronize the data between the Edge and Vivoactive. Instead it creates a duplicate ride. So, I have to turn off the Edge automatic upload and use the Vivoactive as a backup. When I finish a ride I turn on the Edge auto upload, sync, make sure everything is uploaded, then delete without saving the ride on my Vivoactive.
Thank you for your feedback.
1 of 1 customers found this review helpful.
Looks and feels great. Easy to use.
This GPS looks great as an any time watch and its easy to use. The only real short coming thus far after a month is that the battery life isn't great. It requires a charge after only 3-4 days if a GPS activity is recorded daily.
Thank you for your feedback.
3 of 4 customers found this review helpful.
This smart watch ROCKS!
Ok, so I'm not a super techy person and I bought this at my super techy husband's recommendation.
I absolutely love this watch!
I love to see how well I slept (or not), the steps and stairs I take in a day, water consumed, cals burned for specific exercises, HR zones, calendar events, texts, messenger and I can control my Spotify playlist!, the list goes on.....
I highly recommend this watch for anyone really.
Thank you for your feedback.
Daily Commuter
Albuquerque, NM
Daily Commuter
Washington, DC
Great watch so far but internet connection is tricky
I use my Garmin watch to keep track of runs, bike rides, weight training, pilates, and yoga. It is my first Garmin watch and I'm loving it. I think it gives me all the information and statistics that I want (I'm not a professional so I also don't need much). I also think it looks sophisticated and can wear it daily. The only think I dont like about it -and one of the reasons that I actually got it for- is that connection to internet is very difficult and I still havent been able to use spotify in it. Not ideal because I was looking forward to not bringing my phone during runs and be able to download music in my watch and just listen from it but I have not been able to do so.
Thank you for your feedback.
Cycling Enthusiast
Massachusetts
1 of 1 customers found this review helpful.
A great tool to have!
I was looking for a watch that would track everything from miles run or biked, to stress level, and elevation gained, and this watch had it all. I especially love the GPS tracking feature. It always drains my phone battery to use that feature, and the garmin watch does it effortlessly and accurately! I was initially concerned about its size and just being overwhelmed by all that it offered, but was pleasantly surprised. The band is comfortable. The watch head is bigger than I'm used to, but fits on my wrist nicely. And its super easy to use for what I need. Overall I am so pleased with this purchase and would highly recommend the product.
Thank you for your feedback.
Cycling Enthusiast
Eugene OR.
Great price. Received it quickly
I bought this fitness watch because my husband has one. It was a hand me down from his son. I had a Fitbit Charge 4. It does not measure VO2 Max. Which is kinda important if you want to know your true fitness level. Liking it it very much. I know where I'm at now.
Thank you for your feedback.
Tracking and motivation for fitness. Oh and it tells time too!
Battery life is not as good as advertised; it needs to charge for a while and doesn't last as long as I had hoped. Altitude reading is useless, and I've had some trouble with the GPS not matching up. But it is good enough, and looks good, and gets me moving, which is great.
Thank you for your feedback.
Casual Cyclist
Gainesville, FL
2 of 2 customers found this review helpful.
Solid unit, works great
The 4s model is as big as I would want. Feels solid and well made, has survived a few bumps with no marks. All the features work as expected. Mostly use it as sleep tracker, but have explored the other apps and am liking the fitness applications a lot. Factory strap fits my 7-3/4" wrist with 1 notch to spare. I got a Nick Mankey Designs elastic wrist strap for it (18mm) and is very comfortable to wear now.
Thank you for your feedback.
2 of 2 customers found this review helpful.
Great product, wish some of the apps worked a bit better
I really like the watch and how it works, and how it tracks heart rate, VO2 max, and pulse ox. Sometimes the heart rate measures are a bit off, becuase it takes a while for them to "catch up" when there is a spike in heart rate. Also the hydration tracking app has a lot of glitches.
Thank you for your feedback.