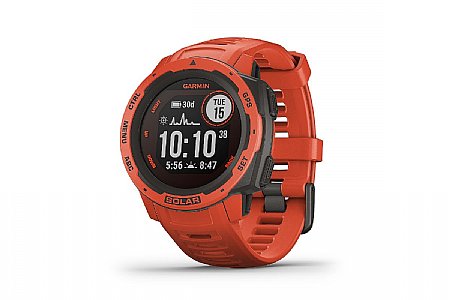 User submitted reviews
Review by 4Horseman

Casual Cyclist

Meridian, MS

Great solar powered fitness watch. Does everything you want it to do.

First I like to tell you that i love the watch. It covers Blood Pressure, Blood Oxygen, steps, timer, ect... It does everything any one would want. Love the color also. Can't go wrong buying this watch if you are into fitness or not.

Thank you for your feedback.
Review by DE

Cycling Enthusiast

Arlington, VA

2 of 2 customers found this review helpful.

Fun watch that does what it says it does

I use this as a backup to Strava (comes in handy every now and then) and as a runner's watch. It has replaced a 735XT, and the function buttons are the same as that one's, which makes for an easier learning curve. The solar charging is fun. No way you'll get enough to not have to charge it, but it does delay the need to charge. With the settings I have it on, it starts out saying 12 days before a charge is needed, but that declines quickly if the GPS/activity tracking is used. The solar charging will occasionally bump the charge back up a day, especially if I'm at the beach or similar. Of course, this is in summer; the use of long sleeves and gloves in the winter should pretty much eliminate the solar charging. It has an expedition function that should last a lot longer and that I hope to use while backpacking.

Thank you for your feedback.