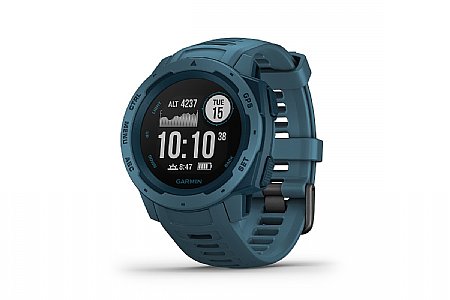 This watch is tough!
I wanted a watch that could track my skiing, walking, hiking and short bike rides. But when I crashed downhill skiing on Mt Bachelor, which resulted in a broken pole, damaged ski, and torn clothing, but no damage to my Instinct watch, I knew this was the watch for me. My daughter saw it and bought one for her boyfriend who is a firefighter because it will stand up to real abuse. I still like my Garmin 500 for longer bike rides, but I use the Instinct for all other activities.
Thank you for your feedback.
3 of 3 customers found this review helpful.
Exactly what I wanted
I've had this watch for four months and it's exactly what I was looking for
Pros
1. It's not afraid of dirt, water or damage. I've hiked all day in the snow and rain and also worked on my vehicles with no sign of wear.
2. The GPS tracks all of my hikes and hunts and Garmin Connect provides mileage, time and elevation feedback and also an export feature to show me how much mileage I put in for each species I hunt and also feedback on my local runs and walks.
3. The watch provides sunrise and sunset, altitude and barometric pressure easily.
4. It tracks my weightlifting workouts, too, which I wasn't expecting.
5. It notifies me of messages, calls, calendar events and, through Garmin Earthmate, messages from my InReach Explorer.
6. Using Garmin Explore, or just the watch itself, I can backtrack my route.
7. It tracks my steps and so much more.
8. The battery will last a week while still tracking workouts, running, walking and strength training daily.
Cons
1. While I have yet to get the advertised 14 hours of battery life while tracking hikes or hunts, it get 10 hours easily. I've learned to charge it during my lunch break (with a portable charger), though, so I don't really have a concern there.
2. There was a period of time where the Garmin Explore map app was not syncing with the watch, so I was unable to backtrack using the watch during that period. That had been resolved.
I wore G-shocks for decades so, basically, I was looking for a watch with military grade durability and geared towards navigation and I got exactly what I was looking for with the benefit of just the smartwatch capabilities that I wanted.
Thank you for your feedback.
Cycling Enthusiast
Doylestown, PA
1 of 1 customers found this review helpful.
Good sports watch, but not perfect
Full featured waterproof sports watch, but with some minor issues. I tested the waterproof feature multiple times in the pool, hot tub and shower. It keeps on ticking. It integrates pretty well with Garmin Connect, and provides, step counting, stair climbs, etc. The app works pretty well. I like that it has a GPS and wrist heart-rate. Some of the things I think are lacking are 1) usability. It only has four buttons, so it's not very easy to navigate especially as each of the buttons serve different functions depending if you press and release or press and hold. It,s not very intuitive so it takes a while to get accustomed. 1) The wrist based heart rate is not as accurate as a chest strap. It is supposed to be able to pair with your heat rate monitor and use that instead, but I haven't gotten that feature working yet. The battery life is pretty good. I get about two weeks if I don't use the GPS alot.
Thank you for your feedback.
Cycling Enthusiast
Portland, OR
1 of 1 customers found this review helpful.
Looking good without getting lost.
This is my first Garmin watch and second Garmin device. The design and functions are impressive, and it looks sharp on the wrist. After owning this for about a month, I'm still discovering new features. Having the ability to track my rides or any outdoor adventure with heart rate is awesome. The battery stays charged for at least two weeks, and downloading the data to my phone is simple. The only negative is the learning curve required in learning how to access the multitude of functions.
Thank you for your feedback.
1 of 1 customers found this review helpful.
Simple, no-nonsense, rugged and great battery life
I have had Vivoactives and apple watches. this watch is simpler with an easy to read screen and no fussy touchscreen. it is a rugged look, but it is very light and comfortable.
Thank you for your feedback.
3 of 6 customers found this review helpful.
Comfortable, durable, HR a bit slow to respond
Super solid and easy to learn if you are an experienced Garmin user like me. I found the HR less accurate than the chest strap - seems to be slow to respond to fluctuations. I like having the smart watch functions that give you read outs on total calories, steps, sleep quantity, and quality, etc. It's also nice to use in a pinch for ride if you don't want to mess with a chest strap or a separate computer.
Thank you for your feedback.
1 of 1 customers found this review helpful.
Good, solid watch
Watch is fairly easy to learn to use. Very accurate for distance and speed. Connects to speed, cadence and heart rate senors quickly. Simple, non computeriWatch look was appealing to me. Only issue has been the elevation during workouts has been off by a little. Good, rugged, solid watch for a lot less that Apple or Garmin's Fenix watches
Thank you for your feedback.
7 of 8 customers found this review helpful.
Really pleased with the Instinct
I own the Fenix and Forerunner also and the Instinct is my favorite. The battery life is great and it is very comfortable. The watch does everything I need it to. It looks great and the bands are very easy to replace. So far very durable as well.
Thank you for your feedback.
Cycling Enthusiast
Idaho Falls Idaho
6 of 6 customers found this review helpful.
Smartest and most useful watch I have ever owned
I did not realize a watch could provide as much information as it does. I can't wait to try it while hiking or cycling. Great buy for what it does. It probably does more than I can figure out.
Thank you for your feedback.