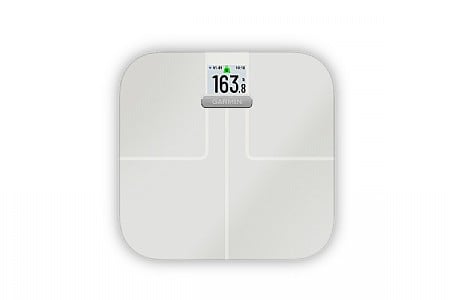 This scale is cool
I love the auto sync with Garmin Connect. Makes body metrics easy and more interesting to track. And my girlfriend uses it too as it supports multiple users with their own Garmin Connect account. Waiting on my new Garmin smart watch to deliver to add to the fun of keeping healthy!!
Thank you for your feedback.
Cycling Enthusiast
tulsa, ok
Garmin
I had within smart scale for many years. But that does not integrate with garmin apps well. According to garmin support, you can't get weight info from Apple health app, the only way is using the index. I bought it on a rare discount
Thank you for your feedback.
2 of 2 customers found this review helpful.
Awesome for integration w/garmin connect, uncertain accuracy of body composition metrics
I love that this scale integrates with my garmin connect. I don't type the numbers in, or have to upload, or anything. I just get on and it syncs. That's great. The weight is accurate (to the best of my ability to measure) and precise (repeatable if you step on multiple times). The body composition metrics also appear to be precise in that they are repeatable day to day. For example, I've found it very useful to make sure that I was staying hydrated by making sure the water % stays similar. I am much less certain that the accuracy of the body composition metrics is enough to make them useful in an absolute sense. I personally have a relatively higher BMI than you might guess given my body fat -- I wonder if this contributes to the scale reporting a body fat % that's ~1.5x my best guess. I was disappointed in that aspect because I'd hoped to use that absolute number as a guide of whether to try (or not) to lose more weight. Overall I'm happy to have the scale, but information is only as useful as it is reliable!
Thank you for your feedback.
1 of 1 customers found this review helpful.
The Perfect Scale for Garmin Connect Users
My wife and I utilize this scale more to help us track progress in our running and spin programs. It integrates seamlessly with our Garmin Venu watches, and the bold color screen is easy to read. The white colorway fades into the bathroom floor- at least for us- to the point that we have to be careful not to trip over it! The whole experience is exactly what we were looking for, as we no longer have to manually log weigh-in info and are also provided with a plethora of other useful stats. Worth the $$ spent and the waitlist time!
Thank you for your feedback.
Competitive Racer
Bend, OR
Lifelong goals
It makes it easy to track changes over months and years. If you don't want to go the wrong direction, you need to collect the data over a long period of time easily. It's easy and motivating using this scale. That, and I'm deeply embedded in the Garmin ecosystem too.
Thank you for your feedback.
4 of 4 customers found this review helpful.
Easy to Use - Provides A Lot of Data
I like the way this scale links with the Garmin Connect app and all of the data it provides. I cycle and resistance train several days per week and over time it's nice to changes in body fat and lean mass percentages and pounds. I use the scale under the same conditions first thing in the morning once per week. Since fluid balance changes constantly, I find that daily weights and body tissue make-up change too frequently to draw any conclusions about training effect. This is my first such scale in a decade and they've improved dramatically. A little pricey but a valuable tool especially as I age.
Thank you for your feedback.
0 of 1 customers found this review helpful.
Inaccurate. Can Only Be Used if You Have A Garmin Account
Weight measurement changed 4 pounds on three consecutive measurements. Can only be used if you have the Garmin App and a Garmin account. Why would family members want to use it
Thank you for your feedback.
Casual Cyclist
Portland, OR
1 of 1 customers found this review helpful.
It Scales
This scale works well and provides a thorough set of measurements (as long as I use it). I wish Garmin would synchronize the weight to Zwift automagically; I did not realize that this was not a feature until after I bought it. There are apparently ways to make it work (use fitbit account to sync weight from Garmin->Fitbit->Zwift) but I've been too lazy to do that. Regardless, very solid product, but a bit pricey (as with most of Garmin's range).
Thank you for your feedback.
1 of 1 customers found this review helpful.
Great Scale!
This scale connects to my Garmin connect app and automatically gives me detailed info about my body composition. It knows when I or my fiance are on the scale and keeps up with our details. It can tell by weight who it is. We love it!
Thank you for your feedback.