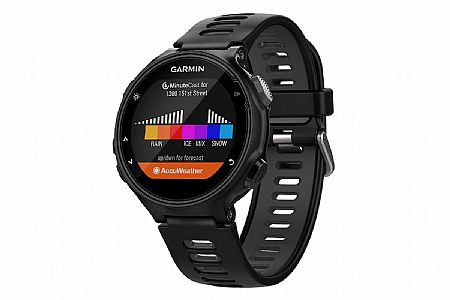 Cycling Enthusiast
New York, NY
5 of 5 customers found this review helpful.
Super Accurate GPS HR with a bunch of features I didn't know I needed
I have an Edge 820, which I use for cycling. I'd been running for a while using the available watch and phone based running apps. Most were adequate but suffered two giant flaws, the GPS tracking was poor and HR readings erratic in anything but ideal conditions. Sure it made me feel great that I could suddenly run a 4:00 mile and elevate my heart-rate to 210 but that wasn't helping my training. The Forerunner 745XT offers support for GPS and GLONAS, wrist-based HR, and impressive battery life in a relatively small and lightweight package. It's great to be able to leave the phone home on race days and pairing with the optional HR Run provides useful feedback on my running mechanics, including cadence, balance, vertical occilation, and stride length. It looks a little cheap and plasticky but it's a sports watch, not a fashion accessory. The software is good and the connection to Strava is dependable.
Thank you for your feedback.
Cycling Enthusiast
Williamsport Pa
5 of 5 customers found this review helpful.
Very good fitness tracker
I purchased the 735XT after returning a Fenix 3 HR. Fenix 3 HR was great but huge and heavy. With the 735XT, I mostly forget I am wearing it. It also replaces a Garmin Edge 800 because I like the automatic upload of activities.
Works beautifully with Garmin Vector and Trek BLEAnt speed cadence sensor.
I highly recommend the No Frills watch face from the Garmin IQ store. I have the No Frills watch face and have set the color scheme to be inverted which makes it much more visible.
Thank you for your feedback.
5 of 6 customers found this review helpful.
The training tool I've been looking for.
This watch has solved every problem I've had with GPS devices. It finds satellites quickly, it is accurate in the pool and open water. I have problems with my vision and have no trouble seeing any of the screens. Easy to change options without hitting strange button combinations or putting your reading glasses on. Instantly uploads to my phone and computer. Extremely long battery life. I haven't used it in a triathlon yet but have practiced that function in training and am confident that it works. I love this thing.
Thank you for your feedback.
4 of 4 customers found this review helpful.
Great watch .... but
I've had the watch for a month and had to send it back to Garmin for a replacement. After 6 emails back and forth and trying step after step to get it to work Garmin finally agreed to send a replacement.
Great watch but Garmin support has much to be desired.
Thank you for your feedback.
Cycling Enthusiast
Arlington, VA
3 of 4 customers found this review helpful.
Good multisport watch, it's fun to have
I got this so I could use it kayaking, running, and swimming as well as cycling. The watch is nice looking, compact, and light. It charges quickly, which is nice since you need to remove it to charge it. The heart rate monitor and other functions work as advertised, with perhaps some minor quirks (e.g., showing a resting heart rate of 51 while showing a real-time heart rate while resting of 45). The GPS can be a bit wonky. On bike rides, I found it to be quite a bit off in terms of distance and elevation with both Ultratrack and Glonass enabled (compared to a cycle computer and Strava app on an Android phone). With GPS only, the distance is pretty close, but the elevation appears to be inaccurate, or at least markedly different, compared to computer-augmented elevations such as those obtained through Strava (e.g., Strava will say approximately 640 feet consistently on one ridge I do most days, whereas the Garmin will be in the mid-400s.)
The product description says it has profiles for XC skiing, paddle sports, hiking, etc., but so far I have not found those. If I'm kayaking I call it a swim and then change it in Strava, and if I'm hiking I call it a run and change it likewise. This could be user error, but it's not obvious where those functions are. (It has functions for cycling, indoor cycling, running, indoor running, pool swimming, open water swimming, and triathlons.)
ETA that Garmin's support site works well with Google, and I just found you can add things like a hike function by setting up what they call an activity profile or perhaps with an app. Seems a bit complicated considering these sports are advertised, but I will give it a shot.
Thank you for your feedback.
Competitive Racer
Aurora OR
4 of 4 customers found this review helpful.
Good multi-sport HR still needs improvement
The watch works well for all triathlon activities. Have used it for open water and pool. The only issues have been with the wrist HR sensor. The sensor is not as reliable as chest strap, and sometimes the watch needed to be power cycled to activate it.
Thank you for your feedback.