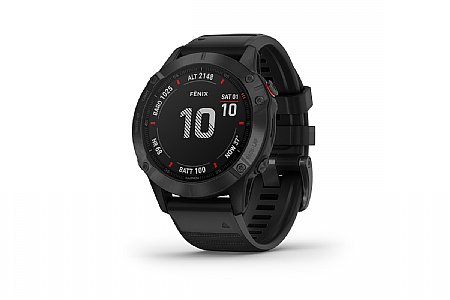 Cycling Enthusiast
Reno, NV
45 days in exactly what I wanted
As usual with Garmin a great piece of hardware. I have a relatively limited use for the watch. I use it like a traditional fitness watch much of the time, tracking sleep, steps, stress, etc.
But because I hate chest heart rate monitors I also rely on it as a heart rate monitor during my primary physical activity which is cycling. The HRM is surprisingly accurate, within a beat or two per minute. It broadcasts effortlessly to my 1030+ and I use it on both mountain and road rides.
It's chunky which takes some getting used to and unfortunately my wrist size is between two notches on the band so it's either a little loose or a little tight. Luckily the HRM still works fine when a little loose.
Battery life is acceptable though I rarely use it for GPS tracking, instead using my phone or 1030+. The one time I forgot my 1030 I used it to track a MTB ride and a few hours of tracking noticeably ate away at battery life.
Thank you for your feedback.
Competitive Racer
Austin, TX
1 of 1 customers found this review helpful.
Garmin is finally getting it right
I bought this watch for my wife and to replace a Fenix 5s that she had previously. The 5s was a disaster with poor battery life and miserable GPS accuracy. I originally went with the 6 Pro for the longer battery life but ultimately had to exchange it for the 6s because the 6 was just too big for her wrist. Good news is the the 6s battery life has proven more than adequate for her needs (IM and Marathon races). GPS is much better and she's finally able to trust the data from her watch instead of canvasing the other runners in her workouts.
Thank you for your feedback.
get one of these
so cool! easy to read, light enough, tough, crazy functionality but easy to figure out, good looking, does more than i do, sync across all activities, really great battery life compared to older models, i charge about once a week, used on multiple climbing expeditions, road and mtn bike rides, backcountry skiing, trail running
Thank you for your feedback.