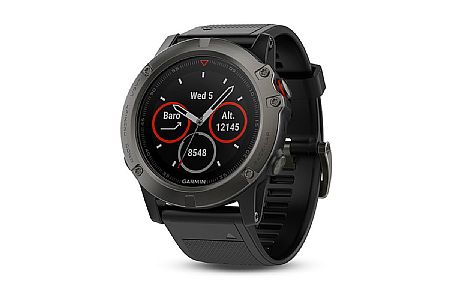 Cycling Enthusiast
Silver Spring, MD
Great Watch for Tracking Activities
Great watch if you like gadgets and want to keep track of your activities. I bike, walk and play golf. This is the only watch I need. This watch does not have to be connected to your phone to operate. All build in sensors work great. Garmin is good at updating their products when necessary. It looks rugged and is not the watch that most others are wearing.
Bottom line this is a great watch and not a toy or fashion statement.
Thank you for your feedback.
Cycling Enthusiast
Miami FL
1 of 1 customers found this review helpful.
excellent watch
Excellent watch, it has everything that I could have wished for ... I ditched (sold on ebay) my 1st gen Apple watch for this and I just wished I had done it before. My review
- Cool looking manly watch
- Made by Garmin. To me this is synonym of quality, dependability and excellent customer support. I have owned several Garmin computers and sensors through the years (Forerunner 305, Edge 500, Edge 520, HR sensors, speedcadence sensors, etc) and my experience has been top. I think they are ahead of the competitors
- Super fast wrist-based HR sensor (apple watch gen 1 is painfully slow)
- Excellent form factor and top design quality, quite comfortable to wear and to sleep with
- Configurable with watch faces and widgets
- Tons of built-in sensors and support to connect to BT4 ANT external sensors (I own footpod, cadence, power, HR strap, speed, etc)
- Ability to connect to WIFI for data uploads and software upgrades
- Excellent high detail topo maps and navigation functionality (way to navigate depends on activity mode), Easy to zoompan in a map. I have not tested in the mountains but I expect it to work just fine ...
- Cannot say much about battery life because I have had the watch for a short time but I am satisfied so far
- Fast GPS signal acquisition
- Excellent Garmin connect IOS app for easy setup
Kudos to BTD for its excellent price (I could not find a better price from a reputable retailer), VIP points, fast shipment and for being awesome in general
Thank you for your feedback.
Cycling Enthusiast
Bothell, WA
Nice and Rugged Sport Watch
The watch would be a game changer if it had built-in World clock (Third party watch faces offer limited World Time Zones). The battery life is very good. The terminal for USB connection does not have cover. However, I believe the contact pins are gold-plated for anti-corrosion due to salty sweat and I hope they will last.
Thank you for your feedback.
3 of 3 customers found this review helpful.
Super watch. Responsive programmers will do customized watch faces for you for a buck or two...great community. Super quality.
Horology guy who finally got sick of watch costs....and rides as a former II...
Coparison - Garmin 810.
Watch Custom faces make it great. It does ALL sports....xc skiing - covered. Bike inside...covered. Amazing.
The Garmin site is great.
GPS maps ON THE WATCH cover being off the grid.
It is good to 100m, so I am not worried about swimming with it (there is a 3rd party dive computer app....).
Basically, the BEST sports watch on the market by far. I have it at 10% screen on all the time, second hand running all the time...with a custom face that a programmer made to my specs for a few dollars (beer money)...GMT4 btw, great programmer...he added the second hand as a request (to be fair, many of us wanted that).
I spoke to Garmin support to ask for a feature. They picked up, were respectful and responsive and later (the next release) my request was a reality. No one beats that in the whole market. I am amazed by that ....it was probably a common request but still, nice support is so rare these days.
Only con a bit pricey.
Thank you for your feedback.
Cycling Enthusiast
Cincinnati, OH
Very nice watch
I normally don't wear a watch except for dress occasions however the features on this watch were intriguing - have the ability to follow trails while hiking, as well as navigate and see topo lines along with the smart phone features AND the cycling sensor capability for training were enough to convert me to a daily and now nightly watch wearer. Yes, I wear it to bed to track sleep quality which is a big factor in training load adaptation recovery. Very happy with this. The battery lasts well over week easily the way I normally use it, screen is easy to see in daylight even for my aging eyes, and I've gotten use to it's size now (it is very big). It's hard to say you could recommend a watch this expensive to someone as it's expensive for a watch however when comparing to the price of others in it's class and the features I would say if you are in the market for this kind of watch and can afford it, it's the cat's meow - Get it, you won't be disappointed.
Thank you for your feedback.