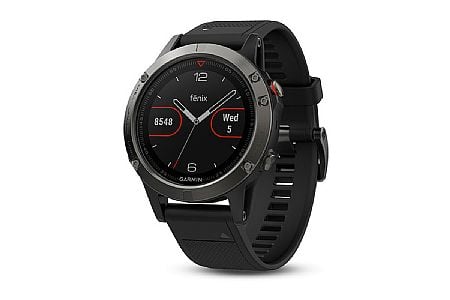 Great watch
This is my second Garmin watch. My first was the Vivoactive HR. Sadly it drown in the pool and couldn't be resuscitated. The Fenix 5 was my choice after looking at many different watches and brands. I like Garmins accuracy and Garmin Connect. Those were a couple of reasons for sticking with Garmin. I use I primarily for cycling, running and swimming. Just yesterday I figured out how to use it for weight training. I like that I can use different watch faces and even make my own if I want. I picked up some cheap band replacements on eBay. They are so easy to change, it only take about 30 seconds. Why has it taken so long for someone to come up with this invention? The battery in the Vivoactive lasted several days longer than the Fenix, but the Fenix battery still longer than any other brand that I know of. It's a great watch for working out and with a quick band change and watch face change its stylish enough to head out on the town. Over all its a great watch.
Thank you for your feedback.
Cycling Enthusiast
Seattle
1 of 1 customers found this review helpful.
Massive Upgrade
I was reluctant to get the Fenix 5, mainly because of the price tag. I knew, based on the specs, that it would suit me, but I had a hard time justifying the upgrade from a Forerunner 235, which I enjoyed. Well, I finally pulled the trigger when BTD had a sale on the 5, and so far I am blown away. First off, the battery life is like 10X better than the Forerunner 235. I do a lot of hiking and backpacking and found I had to bring a USB battery pack to top up the Forerunner on long days. I don't foresee that being a problem with the Fenix. Secondly, as a data nerd, this thing is just F-ing cool. I love the altimeter (never knew I needed one!) and the barometer and see how they will be very useful in the backcountry. Like all devices it tracks steps and stairs and whatnot. The wrist based HRM seems more accurate than the Forerunner as well, but still no substitute for a chest strap in certain situations (intervals, hills). All-in-all, the Fenix is a massive upgrade over the Forerunner and I can see it replacing my Edge 520 as well. If you are a multi-sport outdoor geek with a pension for data, this watch is for you. Oh, and it looks badass! Total package.
Thank you for your feedback.
2 of 2 customers found this review helpful.
Charging Problem
The watch often doesn't charge-will give audible charging sound when connected, and shows the charging symbol, but seems to lose the connection early on. When you go to put the watch back on your wrist, you find that it never charged. The watch port uses 4 ball contacts, and one of the balls is pushed in-poor design
Thank you for your feedback.
Competitive Racer
Minneapolis
3 of 3 customers found this review helpful.
Like it a lot !
I use the Fenix mainly for monitoring exercise, especially on the bike. And, of course the clock.
The Garmin Connect app is great for keeping track of rides, health, and sleep patterns, etc.
I chose the Fenix over an iWatch because of it being a Garmiin product and I use a Garmin 520 bike computer as well, so, I'm familiar with their processes and it synching to the Garmin Connect app on my phone and OSx Mac.
Also, love the more rugged look to the watch compared to the sleek iWatch. Cost was pretty excessive compared to an iWatch that you can make calls from and text message. I do like that the Fenix connects to my iPhone and receives notifications from email, text, calls, etc. Maps are tiny and pretty much unreadable if lost, but, not any different than the smaller Garmin computers like the 520.
Thank you for your feedback.
Competitive Racer
San Francisco, CA
Best multisport watch from Garmin so far!
I've had the Fenix 3 since it launched and loved it, but it was a little too big for me. The Fenix 5 is everything I loved about the previous generation, but in a more compact design... with an integrated HR monitor... with better battery life... and with a better screen resolution! I wear this watch 247, only comes off for a few hours a week while charging. I'm a triathlete and hiker, and this watch does everything from tracking my workouts to helping me navigate in the backcountry. The one downside is the cost, but if you keep an eye out BTD has good deals from time to time. Also, keep in mind that there are 3 sizes 5X, 5, 5S... with the 5S being the smallest design. Personally, I like the added screen real estate on the 5... but the 5X is WAY too big for my wrist.
Thank you for your feedback.
Competitive Racer
Northeast Ohio
2 of 2 customers found this review helpful.
Fabulous fitness watch
I was not certain this watch would live up to the price tag, which is steep. After wearing it for almost 2 months it certainly does. I love this watch. Running, cycling, walking, golf it nicely delivers in all areas of fitness tracking. It's easy to use and appears to be very accurate. I most like the continual heart monitoring. On the Garmin app I can review my heart rate throughout the day and especially resting heart rate at night. After an especially intense week on the bike I noted my HR was relatively high and I modified workouts and rested. Transfers seamlessly to the Garmin app and my desktop. I love the customizable watch faces. Fun!
Highly recommend. And I have been a long time customer of Bike Tires D. and they are the best. Nothing but good experiences with them.
Thank you for your feedback.
Cycling Enthusiast
Phoenix
1 of 1 customers found this review helpful.
Best tri-sports watch Ive used!
I use this watch to track runs, cycling, hiking, walks and daily steps. Useful data on all activities. Reliable HR for a wearable. Nice everyday watch too. Put a HR strap or running dynamics pod and you can receive all the useful information needed.
Thank you for your feedback.
2 of 2 customers found this review helpful.
Best heart rateactivity watch for my money
What I wanted basic watch features (time, calendar, etc), heart rate monitor, Bluetooth connectivity (with iPhone for messages, calls, etc), activities tracking, altimeter, customizability, ruggedness (at least for swimming), size on wrist (not too bulky, not too small), weight (not too heavy), long lasting battery charge.
Fnix 5 has these features and more. 3 sizes to choose from.
Challenges (negatives ?) - Price point is a challenge, so you will have to make that leap.
Looked at Fitbit, iWatch - to small and chinsy. I'm not a huge guy, but the sizes of both of those are really for a girls wrist.
Thank you for your feedback.