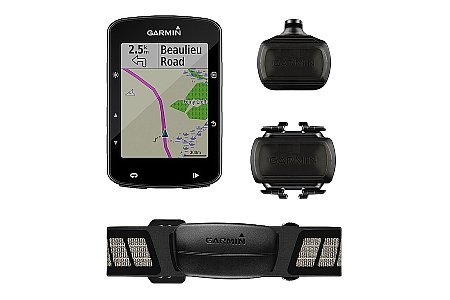 Cycling Enthusiast
new jersey
2 of 3 customers found this review helpful.
New IS Better! Happy Edge 520 PLUS owner
The 520 Plus replaced my aging Edge 705. The new one is leaps and bounds better than the old one. More features, easier to use, smaller, lighter, etc. The navigation is nifty (I used the go back to start feature more than once while riding unfamiliar routes on a vacation, nice to have those Hansel & Gretel breadcrumbs). I gave this a value rating of A Steal primarily because BikeTiresDirect had a sale AND I had banked some Gold points. Otherwise, I might have rated it as good in terms of value.
My only gripe so far is that the unit seems to have trouble pair with my sensors ONLY when I ride indoors on trainer. Odd since the unit pairs almost instantly with the same bike and sensors outdoors. Maybe my basement is a Faraday cage? Otherwise, the 520 has more features than I need. I only wish Garmin would make the batteries user replaceable (instead of needing to send them the unit for new batteries) as I will hate to be without it when the time comes.
Thank you for your feedback.
Cycling Enthusiast
San Francisco Bay Area, CA
Now I Wouldn't Ride Without It.
I use the 520 Plus for club rides and commuting to work and back. Besides the standard features, with it I am able to monitor my heart rate and my cadence too. The 520 Plus, when paired with my smart phone, displays who the incoming caller is, and text messages. It would have been really nice if it displayed larger text. The message box rolls down from the top and covers part of the normal display. It should just cover all the display and accommodated the larger text. I have to keep my eyes on the road and a quick glance to read the text is really difficult. A cool feature is live monitoring of my location by e-mail to a selected contact. The 520 Plus, if enabled, can also send a distress text message to selected contacts in the event of an accident. The buttons are functionally positioned but they should have been more tactile. This is an issue when one is using full fingered gloves or the unit has a silicone rubber case on it. It's worse when its both.
Thank you for your feedback.
Cycling Enthusiast
Massachusetts
Very happy !
I never ride without it both on my road and mountain bike. I love the feedback on the heart rate and all the other stats. What better way to train? Well power would be but this works fine and is affordable. It performs as advertised.
Thank you for your feedback.
Cycling Enthusiast
Central MN
Cycling Enthusiast
Charleston, SC
As soon as Wahoo offers a rear light, I will be done with Garmin forever.
I bought the 520 Plus for its map navigation. Unfortunately, it can't follow a downloaded course. I just had to use my old 520 on my stem with the 520 plus mounted in front of it because my new $350 GPS can't follow a downloaded course like my 520 can, and like the 510 and 500 I had before it could. My advice, if you don't have a Garmin light, then go by an Elemnt Bolt and kick the Garmin products to the curb. The only reason I bought this one anyway was because the 520 had bluetooth problems, now the 520 plus connects just fine to bluetooth, it just can't follow a course.
Thank you for your feedback.
Great product
This has changed the way Im able to approach cycling indoors in winter. Its also deepened my passion for cycling. My only knock so far is that the sensors dont always synch up immediately. I sometimes have to pedal backwards to get the cadence sensor recognized and frequently have to disable the heart rate sensor for a few seconds before enabling it so the system recognizes it. Overall, Im very satisfied.
Thank you for your feedback.
Cycling Enthusiast
Sebastopol, CA
Casual Cyclist
Sound Beach, NY
0 of 1 customers found this review helpful.
Still learning all it can do but so far it is all that was promised.
The Edge 520 Bundle is just what I wanted as a Clydesdales and a numbers guy that does 3 or more centuries a year. Easy to use, holds a charge well and gives me data to play with.
Thank you for your feedback.
Cycling Enthusiast
n Michigan
4 of 5 customers found this review helpful.
Nice, improved version.
This new 520 model is great.I prefer the buttons to a touch screen and the new mapping is very nice.
Battery life seems a better also.
I wish Garmin would introduce an easy way to create and load custom maps though.
Thank you for your feedback.