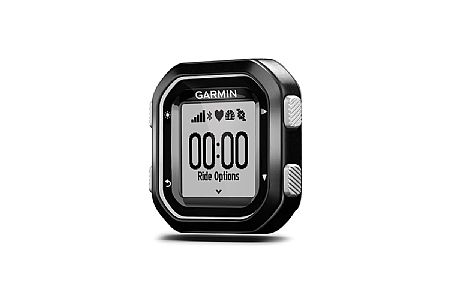 Cycling Enthusiast
Houston, TX
7 of 8 customers found this review helpful.
Good GPS unit with surprising amount of functionality in a tiny package!
This is a great little GPS unit, it's very compact, simple to use and does everything I need it to do!
The other review here was obviously on an early version of the firmware which had quite a lot of issues but Garmin has updated the firmware several times since then and all these issues have been resolved. I have been using it now for 6 months and about 1200 miles and it has worked perfectly. I use it for road cycling and use a Garmin cadence sensor and Wahoo heart rate monitor to monitor my rides and they connect up straight away when the GPS is powered on.
This GPS is a good option if you just want a simple device to track your ride, speed, cadence and heart rate but it also has some more sophisticated features such as simple route guidance from preloaded routes with turn prompts and Bluetooth link to your smartphone for Garmin Live track and notifications of incoming text messages or calls.
Battery life is a little limited compared to the larger Garmin units but I used it to record a 90 mile ride and the battery died only a couple of miles from the end after being on for a total of 7.5 hours so it's not bad!
It does not have the features of the other Garmin units (no barometer or temp sensor, no power meter functionality, no maps) but its a fraction of the price of most other GPS units and overall it has all the features I need for 99% of the cycling that I (and probably most people) typically do.
Thank you for your feedback.
Cycling Enthusiast
San Jose, CA
20 of 24 customers found this review helpful.
Awful firmware - multiple issues
This product is no way worth the frustration it will cause you to use. Do one thing before purchasing look at the user forums for this device. There's a slew of issues with each different version of the software. My issues were
1) Activities report as running.
2) Cannot connect to ant cadence sensor.
3) Wipes settings on power down.
There is no fix in site, so how Garmin can release this is unreal.
Thank you for your feedback.
Garmin Edge 25
This device does just what it says. I use it simply to give me speed (slow) and distance. It does that perfectly. I ride several bijes and i can easily move this. It is handy. I spend long days out on a bike and worry about the battery lasting at times and it has to be charged every day, so i do. I like it a lot
Thank you for your feedback.
Cycling Enthusiast
Surrey, BC
0 of 1 customers found this review helpful.
Quality Ca lculator
This is a perfect unit for long time cyclists who don't need the plethora of data that bigger Garmin units provide. At 75 I am content doing 30-40 miles between weight workouts. Also, I use my Apple Watch for heart rate, and between these two devices I have all the data that I wantneed.
Thank you for your feedback.
Cycling Enthusiast
Portland, OR