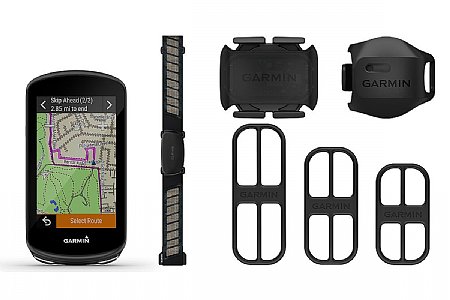 Cycling Enthusiast
florida
Garmin 1030 Plus Bundle review
I have now used my Garmin 1030 plus for several months and love it. I mostly use it for my individual rides on the tri bike and group rides on the road. I enjoy the bigger screen (previously used a Garmin 130) as it is much easier to read. Battery life has been excellent. Connection to all my other gadgets has been flawless. My Garmin Varia shows up and keeps me informed of any traffic. Overall very happy so far with its performance. I have used it on one 70.3 IM so far and it was simple to use and navigate. I have not used in depth maps on it yet and working towards it. Overall I highly recommend. Thank you to BikeTiresDirect for providing amazing customer service with the purchase of this bundle.
Thank you for your feedback.
Cycling Enthusiast
Stevensville, MD
The details you want to know
Coming from the 5 series Garmin Edge to this device changed everything. Visibility, battery, and function. If you're worried about a few extra grams and aero effect, you should really think about what matters more. Your training insights and ease of use are what's going to get you faster and make you go farther. Easy setup. Transfers your devices from other computer, at least from another Edge. The out front mount is nice too. You'll want the longer mount due to limited space between computer and bars on the standard mount. This isn't a splurge. It's a necessity.
Thank you for your feedback.
Cycling Enthusiast
Camarillo, CA
Great Upgrade at a great price
This was an upgrade to my previous Lezyne. The unit comes with Trail forks as a built in app which is very comprehensive for trails I ride on with my MTB. Set up was straight forward but connectivity issues persist with iPhone integration. The real beauty of this device is the metrics obtained for Garmin Connect and the ability to upload routes from other apps like Ride with GPS. I'm still learning my way around the computer but there are tons of good training videos online and the operator's manual is good. Glad I purchased it and got a great deal from BTD.
Thank you for your feedback.
Recommend the Bundle
The Garmin 1030 Plus is an innovative and easy-to-use bike computer. Awesome on screen options with multiple data field choices. Would recommend spending the additional $$ on the bundle. Highly recommend as a significant upgrade to any current bike computer.
Thank you for your feedback.
Competitive Racer
North of SLC Utah
Nice upgrade from the Edge 1000
I was concerned about spending the $$ to upgrade from the 1000, but the screen is noticeably larger, and allows for a more fields. If you are not using this paired with a Garmin Varia Radar light, id highly suggest that as well. Like all Garmin products, the 1030 plus bundle come at a premium price though.
Thank you for your feedback.
Cycling Enthusiast
Longmont, CO