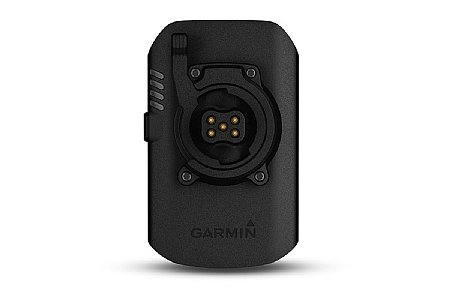 Cycling Enthusiast
Southern California
Great for long distance rides, easy to install.
Extends the battery life of Garmin Edge on extended rides. Be sure and keep it turned off until Edge battery is near depletion. Unfortunately it only works with supplied Garmin Mount. (I have other mounts that I prefer but they will not work with the "mating process").
Thank you for your feedback.
Competitive Racer
Newport Beach
2 of 6 customers found this review helpful.
Impossible to use with Flat Handelbars
This product requires a unique mount (supplied by Garmin) that only works with round handlebars. I ride an F10 with Talon Handlebars, integrated stem and handlebars. The Bars are flat at the top. There is a mount on the bottom of the bars to mount an extender to use a regular Garmin device. I use a 1030. Impossible to use the battery pack with an existing Garmin Mount. The supplied mount is unique and has a round clasp and suitable for only round handlebars. Shame on Garmin for not making this clear in their product overview. It is sitting in a box collecting dust. Never used it! Waiting for someone to come up with a mount. Nothing avail so far by Garmin or other 3rd party suppliers. I must not be the only one with this issue. For long rides I carry a USB battery charger and charge at rest stops, lighter and whole lot cheaper!
Thank you for your feedback.
Cycling Enthusiast
San Jose, CA
15 of 15 customers found this review helpful.
Space saver, mounts underneath Garmin 1030. Charging without cable and you can charge other devices too. Very convenient for long ride like Double Century
I bought this specifically for Double Century events. It locks in right below the my Garmin 1030 and charges without additional USB cable. It also comes with USB port to charge my light. One drawback is you have to be careful to turn off the Garmin charge if not needed, otherwise it will use up all the battery. Overall it's a great battery for long ride.
Thank you for your feedback.
Cycling Enthusiast
Ashburn, VA
1 of 2 customers found this review helpful.
Extra Power with Issues
The Garmin Power Pack is a great tool to extend the life of your Garmin Edge on long or multi day rides. Two issues to watch out for 1) The battery pack clips into a special Garmin bike mount. It is tricky to get it to click in. On my last ride I thought I had it clicked-in and secured - but clearly not. 20 miles into my ride the external battery pack was no longer with me. 2). When you buy the battery pack, it does NOT come with the special bike mount. Unclear if you can use a standard bike mount (?). The special bike mount costs another $40.
Thank you for your feedback.
Cycling Enthusiast
Los Gatos,CA
Seems to work, but haven't really needed it yet.
My new Edge 1030 lasts so long that I haven't had to actually use this. Have kept it charged up and will try on super long ride soon. Good support from Garmin-the plug-in charger wasn't working from box, so they just sent a new one.
Thank you for your feedback.
Cycling Enthusiast
Milwaukee Wi
Charge Power Pack
The Garmin charge power pack works great. It has given new life to an old Garmin 520 that works just fine except for poor battery life. I now can use my 520 on long rides and never have to worry. It is easy to use and I like its sleek design to charge newer Garmin edges without a cable. I can do double centuries without concern for battery Life.
Thank you for your feedback.