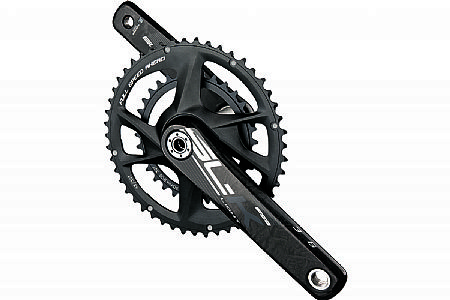 3 of 3 customers found this review helpful.
The low end grunt that adventure bikes need.
I love riding my cross bike on challenging terrain. A typical ride involves 2000 of climbing on paved or unpacked roads, 2 hours of challenging myself on blue MTB trails and back to the paved or gravel descent. This crankset is super stiff and has a small enough small ring to enable the toughest off road climbs. Top end speed is nearly unchanged. Versatility of the bike increased dramatically.
Thank you for your feedback.
Competitive Racer
Middle Tennessee
Smooth shifting, silent operation. Excellent crankset.
I installed this crankset on my gravel bike in order to get the 4630 gearing. I've been an exclusive Shimano crankset user for over ten years and I was a little hesitant to go with an FSA crank. (My last FSA crankset, 13 years ago, was not a very good crankset.) I need not have hesitated. This crank offers smooth shifting and silent operation with a Shimano Di2 front derailleur. The only downside is that, when I'm standing and climbing hard, I can generate a little rub somewhere in the drivetrain. (You may ask . . . If I'm climbing hard, why should I be in the big ring? Good question.) I've got over 500 miles on the crankset and I'm very pleased with it.
Thank you for your feedback.
Cycling Enthusiast
Valley Center, CA
21 of 22 customers found this review helpful.
The FSA SL-K crankset is light weight and one of the few that can mount a 3046T chain ring combination.
I installed the SL-K Modular BB386EVO crankset with 3046T rings on my rando bike's BB30 bottom bracket using FSA adaptors. My objective was to replace the standard 3450T alloy crankset to take advantage of the improved range of gear ratios. The front derailleur could accommodate the 16T difference and only required it to be lowered to properly align with these smaller chainrings. This was a very simple swap. I shortened the chain and was back on the road. The new gear ratios have made for more pleasure long distance rides that include any significant climbing. I have subsequently installed this same product on my CXgravel bike by using FSA bearings made to accommodate the BB386EVO spindles in the BSA bottom bracket. This set up has also greatly enhanced my dirt adventures.
Thank you for your feedback.