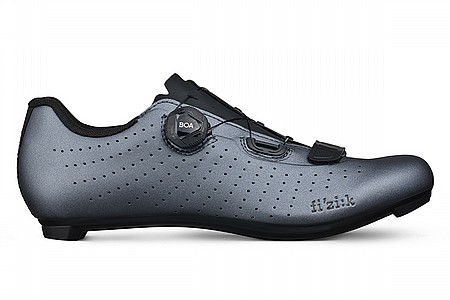 upstate of South Carolina
Cycling Enthusiast
Manteca, CA
1 of 1 customers found this review helpful.
Love these Fizik shoes
I needed new road bike shoes and looked everywhere. Read the reviews, looked all over. My LBS didn't have anything so I went online. I found these shoes at BikeTiresDirect.com and after reading up on the shoes, I ordered a pair. They arrived in under a week. Excellent service. The fit is good, and they are comfortable. I needed something with more room in the toe box and forefoot, and they are great. I may swap out the insole, but I love the Boa dial to get the perfect fit. I wanted white and they had them in stock and on sale. The best of all worlds. Thanks.
Thank you for your feedback.
Cycling Enthusiast
Portland OR
0 of 1 customers found this review helpful.
Don't be put off by the lacing
Being in lockdown, I bought these shoes sight unseen from the website, always a chancy proposition for gear that requires a personal fit. When I opened the box, they looked serviceable enough, but the lacing looked like plastic filament line. I was going to return them before I looked up what Boa lacing systems really consisted of. Short answer Really strong stuff (airplane grade metal filaments).
Anyway, the fit right out of the box was snug, but improved quickly. I've been unable to ride very often due to the lockdown, but every outing the shoes feel better. If I was on my regular cycling commute schedule, I think I'd be even more impressed, but even with the limited use so far, I like these shoes.
Thank you for your feedback.
Cycling Enthusiast
SW Florida
1 of 1 customers found this review helpful.
Just what I was looking!
I bought these to replace a 7 year old pair of Specialized road shoes. I cant believe how much different these are in a very good way from the Specialized. So much lighter, more technical, love the tensioners system which make it so easy to adjust and take off the shoes. I ordered size 45, which were the same as my Specialized and I was concerned that they would be to narrow, but they fit perfectly! Plenty of room in the width. These shoes are so aerodynamic and streamlined. Cant believe I waited so long to replace my old shoes with these! I ordered the gray metallic, and love the color!
Thank you for your feedback.
2 of 2 customers found this review helpful.
When you wont settle for lesser quality!
Bought these to replace old FiZik R5 road shoes. The new R5 is lighter, and more comfortable. Initially you will think they are narrow - but the shoe gives and forms to your foot! Will likely require 2-3 rides to break in. Fantastic shoe, super reliable brand, easy to keep clean. Be the envy of your riding group!
Thank you for your feedback.
Great shoe at this price
I was searching for an affordable BOA type road shoe and the Fizik Tempo R5 Overcurve was right on. Fits and feels great and the BOA enclosure ensures a better fit than other type shoes that I have owned. Would definitely buy again.
Thank you for your feedback.
Cycling Enthusiast
Nebraska
Great buy
This shoe give high performance at a lower cost. Great power transfer. The upper part of the shoe isnt top of the line but it will do your bidding. This is my first pair of Fiziks but not my last. The next purchase will be to the top of their line.
Thank you for your feedback.