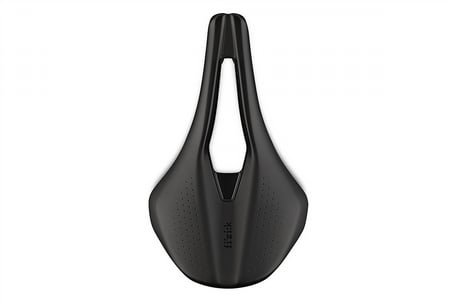 Cycling Enthusiast
Near Portland Oregon
3 of 3 customers found this review helpful.
Finally found my
I had tried several different saddles in the last few years. I had a Forte classic but went away from it because it made me sore on longer rides. I primarily used a Serfas Dorado from REI which was very comfortable, but tended to rub my inner thighs, was a little heavy, and didn't really allow for great power transfer I think.
I then tried a Fizik Antares R3 Saddle but it gave me a bad headache and sent me to the chiropractor due to the super stiff ride after only 20 miles. Apparently every bump in the road went directly to my head / neck. I have avg to slightly larger sit bone width so a wider saddle is critical for me.
I decided to spring for the Tempo Argo R1 and absolutely love it. Two or three days after getting beat up on the Antares R3, I was able to do back-to-back 50 mile rides on the Tempo Argo with no pain whatsoever. Felt great and didn't even really notice it (which is the goal). Normally I'd start squirming in my seat around the 35-40 mile mark. It is wide enough to give me more support laterally, but narrow enough in the front so it doesn't rub my thighs. So it fits me perfectly. The weight is great too.
It does have different shape to the rails since they're oval and not round. So reviews I read prior to purchasing cautioned about it not fitting all rails. Luckily it fit my Fuji Altamira stock rails just fine. So it's worth checking if you can support oval rails, but otherwise it's a great upgrade and I'm looking forward to putting more miles on it next year.
For size reference, I'm very athletic, 5'8", 155lbs, and in my 40's. I did 2,000+ miles this year so I'm no stranger to time in the saddle. The extra $$$ for the Tempo Argo is well worth it for the time I spend sitting on it. It's hard to find a slightly wider saddle but if you need something a little wider, then this is well worth a try!
Thank you for your feedback.
LOVE this saddle
This saddle is amazing. I have wider sit bones than the average person, and so my biggest issue with most saddles is them feeling too narrow. This saddle is fantastic! The design rolls your hips into a position for efficient pedaling. I just finished my first century of the season, and typically during that first long ride of the year I'll be pretty sore. But I felt great with this saddle the whole ride. Stiff but comfortable.
Thank you for your feedback.
0 of 2 customers found this review helpful.
Not happy with saddle - not comfortable
My fizik alliante versus evo r3 saddle is much more comfortable - i like the shorter length for riding on my aerobars - but - i have not been able to set this saddle up to work for me, and it has made me very sore - I would like to return it
Thank you for your feedback.