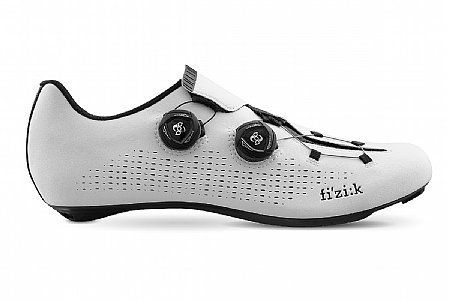 Cycling Enthusiast
SF Bay area
nice shoe, but disposable?
Purchased these shoes from BTD. last year, but I have concerns over the long term usability. Sidi doesn't make their road shoes in narrow sizes, so I went with these. They fit nicely and are adjustable while riding. But when the heel plates wear out, there are no replacements like there are for the Sidi shoes.
The heel plates are a hard material and have already worn to the point of the attaching screw starting to wear. Fizik does not make these heel plates available as replacement parts. So what are the options?
Thank you for your feedback.
Cycling Enthusiast
New York
Great shoe
Great road shoe. Light and stiff but very comfortable. Ability to slip on and off very easily. I have a long narrow foot and the BOA system makes for a secure fit with little to no movement. No issues with hot foot either. I move away from the Specialized road shoe to the Fizik and I am glad I did.
Thank you for your feedback.
9 of 9 customers found this review helpful.
Killer style and performance
Ive always had issues with my feet on the bike and after trying shoes from Specialized, Shimano, Gaerne and Sidi Fizik Infinito R1 is the first shoe that is problem free for me. Shoes are a personal preference, but I find the volume control aspect of the shoes to be more than just marketing hype. I have a wide forefoot that usually causes pain on the outside edges of the foot, but I have not felt that at all with these shoes so far.
Its also hard to argue with the style of Fiziks shoes! I have the white version and find them easy to keep clean.
My only cons of these shoes would be that the outside sole seems to mar very easily and they are not the most lightweight shoes out there. There are no coversprotectors on the front of the shoe, so if youre not careful while walking they can scratch very easily. The heel similarly is not very durable, but is replaceable.
I came from a pair of 44.5 Specialized S-Works road shoes. I tried a 44, 44.5 and 45 in the Fiziks and the 44.5 fit spot on.
Thank you for your feedback.
Cycling Enthusiast
Anaheim, CA
2 of 3 customers found this review helpful.
Excellent Cycling Shoe
This shoe happens to fit me like a glove. The two dials on each side of the shoe provide options if it's too tight or too loose on each part of the show. On the fly I might add...
Thank you for your feedback.
Competitive Racer
Chicago, IL
1 of 2 customers found this review helpful.
Just what I was hoping for
These Fizik shoes are really top notch. The red color on them make you look fast. The boa dials are top notch.
I'm so happy I went with these.
They are also a very nice width. Some cycling shoes out there are too narrow or lack any sort of arch support.
Thank you for your feedback.
Cycling Enthusiast
Cincinnati, OH
Excellent Cycling Shoes
I am really happy with these shoes. I have had them maybe three to four weeks and have close to 300 miles on them. I have already recommended them to a friend.
Pro's
- Great look. There is nothing overstated about them. I purchased the traditional black version. They have a timeless look. The branding isn't overdone and the design is very clean.
- This is my first pair of cycling shoes with the turn-to-tighten device for tightening and loosening the shoe. This is a great feature. It is easy to tighten and loosen during a ride and you just pull up to release the mechanism to get out of the shoe. What is REALLY great about this feature is that you can adjust the tightness of your shoe under your shoe cover. You can't do that with ratchets or velcro straps. Very nice for winter rides.
- The fit seems to be very good for my foot although it's winter so my longest ride in the shoes so far is only 45 miles. I am not expecting any surprises with a longer ride. The cables that tighten the shoe seem to pull down evenly. I don't feel any hot spots.
- The shoes are very light.
- The shoes look like they are well made. They should last a long time.
Cons
- The obvious, they are expensive. They are worth it.
Thank you for your feedback.
Competitive Racer
Thailand & NH, USA
0 of 7 customers found this review helpful.
I look forward to wearing this shoe for the first time
I have yet to try this shoe but look forward with great anticipation. I put the shoes on just to make sure they fit okay. From this initial impression, I think it will be great. The material feels great and the boa dial seems better than my top of the line Sidis.i can post another review when I use them finally.
Thank you for your feedback.
Cycling Enthusiast
Southern Indiana
1 of 1 customers found this review helpful.
Excellent Shoe!
The Fizik R1is an excellent shoe-it is good looking, easy to enterexit, easy to adjust on the ride, and comfortable. It was also an excellent purchase as I bought them from BTD while on a Gold Express Deal. I also like that the heel plug is replaceable which will certainly extend the life of the shoe.
Thank you for your feedback.
Cycling Enthusiast
Boerne, TX
Fantastic shoe, the most comfort I have ever felt in a cycling shoe
I enjoy competing in triathlon, this shoe is the most comfortable shoe I have ever used. The ease at which I can put on and remove my shoes allows me to transition more quickly. I really like how wide the toe box is and allows me to wear my running socks rather that to thin of a sock.
Thank you for your feedback.