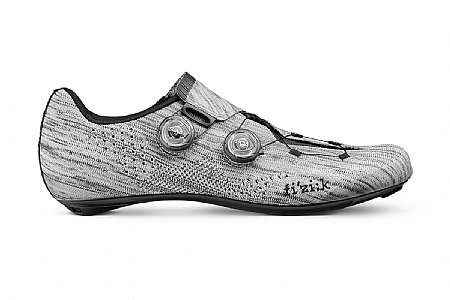 Daily Commuter
Saint Paul, MN
Well made but not for everyone
It's a very comfortable shoe with one major exception--the upper cord on the BOA cuts right across a tender and raised part of my shin/ankle. I tried cutting the tongue down somewhat, which helped, but could never get my ankles to stop being cut into without having the shoe too loose for good pedaling. If you're never bothered by the top portion of BOA wire-style closures, it won't be a problem.
Thank you for your feedback.
Cycling Enthusiast
Southern California
7 of 7 customers found this review helpful.
Great warm hot weather shoes
Being named R1 knit road shoes, I was expecting a very soft upper (slipper like) with a nice stiff sole. The Knit upper is much more supportive than I was expecting and still very comfortable for my feet with massive air flow. The shoes have large air ports on the sole and on an early morning spring ride my feet were very cold. They are perfect for here in Southern California during the summer. Be careful on the sizing. I wear a 9.5 US shoe, a 43.5 Sidi, a 43.5 Shimano. The Fizik size chart said I should wear a 42.5.
So I ordered a 43 - Wrong, I was swimming. Went to a 42 and they fit very nicely. Be careful once you mount cleats they will not take them back (anyone need a 43?).
Thank you for your feedback.
Cycling Enthusiast
Spruce Grove, Alberta, Canada
Light, comfortable and cool looking... great fitting and looking bike shoe
Product is used (right now) for indoor cycling as it is cold and snowy here in Western Canada, but also will be used for outdoor cycling in the spring, summer and fall months. Like, the construction, fell and fit of the shoe. Don't like - nothing....
Thank you for your feedback.
Cycling Enthusiast
Folsom, CA
Cycling Enthusiast
Brenham, TX
2 of 2 customers found this review helpful.
It does keep your feet cooler
I cycle mostly in central Texas and it gets hot. I have the black version. I have used this shoe for several months and have many miles on them. The twin dials allow excellent fit control. The fabric holds up well and cleans up well just wiping it down with a damp rag. The temperature is warming but is still only in the upper 80's. After using these shoes several times in this weather I tried my other pair of cycling shoes that are the usual non-mesh uppers. My feet were notably hotter. Notably. The Fizik knit is very comfortable, the dial in fit is perfect, and the knit breathes very well compared to traditional shoes. These are the best pair of shoes I have owned.
Thank you for your feedback.
Cycling Enthusiast
Brenham, TX
A really nice shoe
Light, they do breathe through the knit top and has 3 vents on the sole. The twin ratchets are well-placed and do a great job snugging the shoe just right. I have the black with the red underneath, they look great. The only thing I can find fault with is the upper tensioning lace will catch on the foot opening at the top of the shoe. Other than that these are quite awesome. Looking forward to how they perform in the summer here in central Texas.
Thank you for your feedback.
Not as cool as hoped
I wanted to love these shoes. I have a Mt Bike version of this shoe and it is great. Maybe it is my cleat design difference (LOOK vs Shimano) that causes the issue, but my feet still get hot and tired in these shoes. I love the ratchet design and durability and maybe it is just my sensitive feet, but it did not produce a cooler foot.
Thank you for your feedback.
Cycling Enthusiast
SW Mississippi
1 of 1 customers found this review helpful.
Warm Weather Wonder
Living in the deep South of the US, I know hot weather, and this shoe is made to help keep your feet cool. Plenty of ventilation, but even with the knit construction they are very stiff and fit me similar to the Sidi shoes that I have used for years.
Thank you for your feedback.