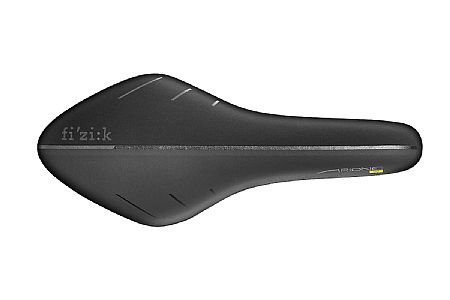 Review for Fizik 2015 Arione 00 Carbon Braided Saddle
Review for Fizik 2015 Arione 00 Carbon Braided Saddle
Competitive Racer
SF Bay Area
3 of 5 customers found this review helpful.
Great if you're not saddle sensitive
Over the years I've used 10 or so different saddles from just about all major brands without any problems so I suppose I am not particularly sensitive (physically) to saddles. Even so, the design of the Arione 00 gave me pause due to its' long nose and tapered sides (wings). I needn't have worried - after 1,500 miles since purchasing (50 to 75 miles per ride - climbing, sprints, fast pace, distance) it has proven to be the most comfortable saddle I've owned. Typically, I have applied a 0 tilt angle but with Arione 00 it seems like this isn't possible. On my saddle, the back half sits at at an almost 0 angle while the front angles downwards at about 4.4 degrees. Surprisingly, this works out quite well. I can sit up and shift backwards on the saddle for comfort, or, when going hard, the slight downward angle of the nose makes it more comfortable in the drops. The only gray area is the middle of the saddle where, on occasion, with too forward a position and riding the tops or hoods, the downward tilt puts too much pressure/weight forward but a slight shift aft and I find the sweet spot for this position. All that said, I am particularly flexible so moving around on the saddle isn't a problem. Finally, one proviso on the comfort of the saddle is that I switched shorts from a brand that rhymes with Twirl to Assos. The Assos are silly expensive but they fit amazingly and have more padding so this may be a contributing factor (or confounding variable). So far, there really is not anything that I dislike about the saddle.
Thank you for your feedback.