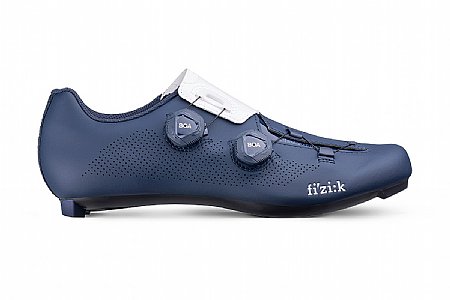 Great Shoes
These shoes are very comfortable right out of the box. This is the first pair of cycling shoes I've had with boa closures and I loved the way the shoes wrap around my feet. BUT, I learned about 15 miles into my first ride that tightening the shoes around my feet wasn't the smartest thing to do as I began to get hot spots at several locations on my feet. I released the tension on the lower boas and the shoes felt much better. I now start each ride with the lower boas just starting to get tight and they are very comfortable for any length ride. The soles are very stiff!
Thank you for your feedback.
Cycling Enthusiast
Los Angeles
3 of 3 customers found this review helpful.
Excellent Shoe
Third pair of Fizik. Gorgeous silhouette. Outstanding craftsmanship. These fit a bit large- maybe 5mm longer than my Fizik R1 Uomo. Experienced the same as previous reviewer where edge of tongue dug into ankle but after 50 miles broke-in. Very stiff carbon sole. Prefer an aftermarket insert vs OEM on all of my shoes. Durability on par with Sidi. Flat white scuffs easily vs wheel rub but cleans well. At this price point hard to beat. BikeTiresDirect.com shipped promptly.
Thank you for your feedback.
Cycling Enthusiast
Princeton, NJ
Top Marks on Price Performance
May not be as refined (or expensive) as the R1 model but the R3 model delivers a great price performance return. The shoes come in variety of color combinations. They fit is precise through a dual dial tension system that allows for easy adjustments while riding. Stiff soles delivered efficient power transfer to my SPD pedals without discomfort. Got my pair at the beginning of the summer and they did not overheat my feet except in the hottest (95+ degrees) days. They also dried quickly without any adverse effect to the fit or the stiffness. Highly recommended. I would get another pair when this one wears out.
Thank you for your feedback.
Competitive Racer
Boise, ID
1 of 1 customers found this review helpful.
Even better than I'd hoped!
I've been riding Sidi shoes for many years, but one day the strap with the buckle just broke off in my hand. Decided to try a different brand and I've learned to always check with Bike Tires Direct and they had a great price on this shoe. It is a lot lighter than the Sidis and the Boa system is much easier to adjust. I didn't dare believe it at first, but I'm convinced I am at least 1 mph faster with this shoe. It fits me well, although I don't tighten it very much around my forefoot. After learning how I wanted to adjust it, including trying some different sole inserts, the shoes do very well for me. If you have high insteps it might not work so well.
Thank you for your feedback.
1 of 1 customers found this review helpful.
My feet said Finally!
I recently have purchased two pairs of the Fizik Aria R3 cycling shoes. I ordered 12 size up from my normal shoe size (10.5) and they fit perfectly. The tongue was a little stiff to start out with but not noticeable after a couple of months.
I live in Florida and sweat a lot, so I am glad I bought two pairs (white and black). Alternating gives time for the shoes to dry between rides.
Friends have complimented my shoes and so have my feet. I ride frequently and long distances with regularity. My feet have not complained once! If only the Navy blue had my size in stock...
Thank you for your feedback.
2 of 2 customers found this review helpful.
Stiff and comfortable shoes
Comfortable out of the box, plenty stiff and look nice too. Volume can be adjusted to fit my long low volume foot. Fits true to size I measured my foot in mm then added 7 mm. The volume between 44.5 and 45 is noticeable.
Thank you for your feedback.
Competitive Racer
Memphis, TN
10 of 10 customers found this review helpful.
Incredibly comfortable
I pulled the trigger on these when they were on sale, and so glad that I did. They not only look awesome (black on black for me), but are very comfy. When I opened the box and tried them on I did kind of wear them around the house for a few minutes (but that's not weird, right?). After I had my bike fit guy get me going in them, my rides have been great. The size was true to what I expected not too big or small, narrow or wide. I've gotten, over the years, to used to adjusting orders based on consensus reviews concerning sizing, so I'm happy that enough people said that these were fine. The sole is very stiff, so power transfer is a given.
The issues minor, but just a heads up.
1) When attaching the Speedplay cleats, yes, as reviews said, the curvature of the sole was an issue, but the shims provided just (barely) enough of a buildup to allow installation on par with other shoes. Silver lining the longer, better, stainless screws got to be used because there was so much shimming.
2) it is easy to over-tighten the top boas, they feel so good. After a while you will notice some discomfort, so a little loosening will be needed (they are boas, so this is simple). Save yourself the lingering red marks on the top of your feet and take it easy at first better to reach down and dial them tighter than be mad at yourself for not listening...).
Amateur racer, several rides per week, etc. The weather here has been unseasonably brisk since the shoes arrived with only a couple exceptions, so I can only report that they are just fine in high-40s to high 50s without thick socks. Once the temps climb into the 90s and I have a few thousand miles in the shoes I'll hopefully remember to do a follow-up.
Exceptional value on sale, pretty good value at regular price. They look good, are comfortable, and, just like my bike does, they help hide my weaknesses.
Thank you for your feedback.
Cycling Enthusiast
San Francisco
11 of 11 customers found this review helpful.
Nice shoe - Terrible tongue design
I wanted to love these shoes - i was ready to. Really great shape, nice sole, good clean shape that hugs your foot, build quality is nice, great design. AND, there is a strip along the top of the tongue - it it stiff, sharp and placed really high up at the top of the tongue against your foot. This strip digs right into your ankle at the center where your ankle pivots over and over, all day long. This is just crazy poor design and there is no way this could possibly be comfortable for most riders. I've been riding for a long time and have tried lots of shoes. I can't understand how this got through the Fizik, or any company's, testing process. I'm bummed to have to return these.
Thank you for your feedback.
Comfortable
I picked up a pair to replace my Fizik R4 shoes that were getting old. These fit the same, which is what I was going for. For what it's worth, I don't have particularly wide feet, and I keep the toe box BOA as loose as possible.
Thank you for your feedback.
Cycling Enthusiast
Nebraska