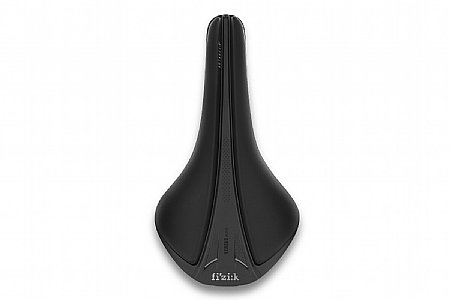 Cycling Enthusiast
Benici, Ca
Great Saddle - But I Got A Different Version in the Box!
I ordered the Antares R3 Versus Evo, but Bike Tires Direct sent the R3 Open version instead. Both work the same and are very comfortable for me so I saw no need to send it back.
I bought this saddle as a replacement for my Sella San Marco Regale that I've been using on bikes for over 20 years. I wanted to get something of a similar shape and size as well as with some pressure relief. This saddle fits the bill.
i average between 250 and 300 miles per week with rides between 45 and 100 miles. The saddle is comfortable and allows for changes in position. I especially like the give of the wings when climbing as you can put down the power for long periods without having to get out of the saddle.
I would definitely recommend this saddle to folks looking for a Regale replacement, and would encourage everyone to take a look at the Fizik site to determine which saddle concept is right for them.
Thank you for your feedback.
Its a decent one.
It has a nice balance between padding and firmness. The edges of the saddle are a bit sharp and can sometimes feel awkward if not uncomfortable. It found a permanent home on my track bike - my least ridden bike. Its well-made as expected.
Thank you for your feedback.
Excellent product excellent seller
This saddle worried me when it arrived as it appeared too bare bones to provide appropriate comfort and support. My first long ride on it set me straight. The padding is thin but effective and the saddle is designed to support you at your sit bones, not other spots that get sore or chafed. Well designed and well built. Western sold the saddle at a good price and with good service. Cheap shipping was slow but hey I chose cheap shipping!
Thank you for your feedback.