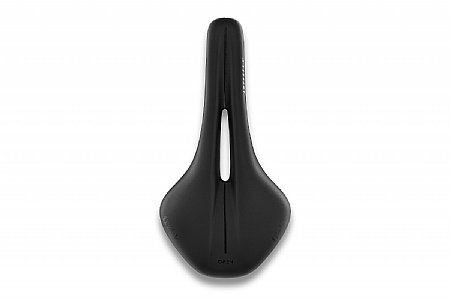 Cycling Enthusiast
cleveland ohio
Finding the right saddle is time consuming and expensive
Shopping for a new saddle is difficult, reading reviews and tests can only tell you so much, everybody is different. I'm sure I could benefit from a professional bike fitting, however time, money, and time...did I mention time? All that said, so far this is the best saddle I've had on this bike. I think a little more cut-out may help long ride comfort. Overall look, fit and finish on this saddle is very nice.
Thank you for your feedback.
Cycling Enthusiast
San Luis Obispo, CA
1 of 1 customers found this review helpful.
Great saddle for riders with average flexibility.
I became a Fizik saddle convert after many years of being a loyal Selle Italia rider (although the Turbo will never come off my vintage Eroica bike). The Anteras is designs for folks with average flexibility and the Microtex cover material has a fabulous leather-like feel, and it has a very clean look on the bike. My best advice is to make sure you know exactly how wide your sit bones are (ideal saddle width is sit bone width + 20mm). The regular size is quite narrow at 141mm. I found after about a year of riding that it was too narrow for me, but the large version at 152mm is just right. Highly recommended saddle!
Thank you for your feedback.
Cycling Enthusiast
SF bay area
Fizik saddles are the best
I used an earlier version of the Fizik Antares Chameleon saddle for over 10 years. As it was getting a bit worn, I decided to get this new Antares saddle. I like the cut-out feature. Fit is a bit different from the earlier version so it took me a few adjustments to get it right. Fizik saddles are very well made and last forever.
Thank you for your feedback.
Cycling Enthusiast
Hudson Valley NY
2 of 2 customers found this review helpful.
Great saddle !
As advertised, the cutout has alleviated the pressure and numbness I had after rides on my stock Bontrager and Selle Italia saddles on my Trek and BMC. The old saddles had minimal cutouts, and I guess I accepted that numbness was part of cycling.
Im pushing 50 years old with average flexibility and feel this model is right for me. Ive had it for a couple months and can happily say the numbness is not an issue. There was an initial break-in period as my sit bones were admittedly sore as I adjusted to the new seat. But after a couple rides it was clear that Id made the right choice. Now I can set out for a few hours in the saddle and not lament having to deal with the numbness. The weight difference was an added bonus - this thing is also super light.
Id give 5 stars but clearly there are higher end saddles out there with larger cutouts, lighter etc., but I feel that this saddle is fantastic. It exceeded my expectations.
Thank you for your feedback.
Cycling Enthusiast
Jacksonville, FL
3 of 3 customers found this review helpful.
A Perch
Well according to Fizik, Antares is somewhere between race and relaxed. Id agree. Its pretty flat and appears small until you measure it to, lest say a gravel bike seat. I love it. Minimal and not long to get very acclimated
Thank you for your feedback.