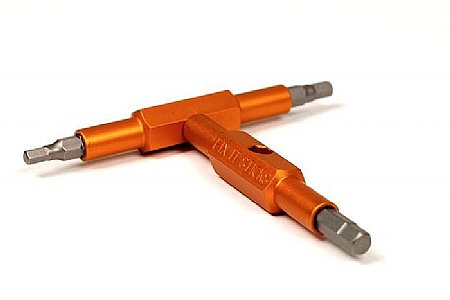 Cycling Enthusiast
Hood River, OR
Surprised at how much I like these.
Love that you purchase a combination of bits to match exactly what your bike needs and nothing more so you are not hauling around extra weight of a multi-tool. I have a SRAM eTap system with hydraulic brakes. This tool gives me the four bits I need for everything on my bike, three allen and one Torx. Other than a chain tool or a spoke wrench there is nothing on the bike that I can't tighten., loosen or adjust. I find myself using this pair of Sticks when I travel to breakdown the bike for packing and to build it up even though I have a full set of allen tools in my bike case. The T-handle setup makes it easy to quickly spin fasteners off bottle cages and headset plug. The 5mm bit is deep enough and the barrel of the Stick is narrow enough to get to the rear DR hanger screw, and also the nut on the back of rim brakes buried in the fork crown of my wife's bike. A few grams heavier than three separate allen keys and a Trox key... but the leverage and speed you get from the T-handle configuration make it worth it. My only complaint is that one of the bits has gotten loose after a lot of use and it dropped out... i solved that by jambing it back in with a bit of plastic wrapper as a shim.
Thank you for your feedback.