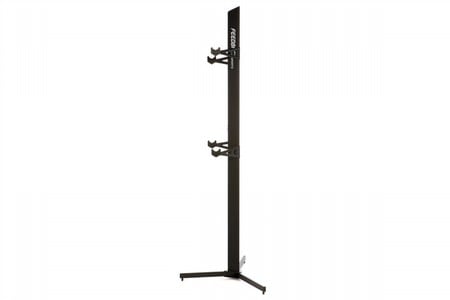 Cycling Enthusiast
Scottsdale
Quality Bike Storage Stand
This stand is not easy to assemble but once it is assembled it is a solid bike storage stand that doesn't take up a lot of space. That said, because the rear leg sticks out toward the wall, it doesn't hug the wall and so takes up more room that a rack that mounts directly into the wall. The cradles are individually adjustable so you are able to configure them to fit a variety of bikes. The quality of this stand like all Feedback products ensures it will last a lifetime.
Thank you for your feedback.
Cycling Enthusiast
Scottsdale, Az
Hard to assemble but works fine.
It is not easy to assemble and the way the base of the stand faces forced me to leave more distance between the wall and the stand than I would have liked. On the plus side, once assembled it is a rock solid stand and should last forever. The materials are first class all the way and it is has a practical industrial look to it.
Thank you for your feedback.
Cycling Enthusiast
Naples, FLA
Casual Cyclist
Columbus, OH
Well built and easy to assemble!
I could not be happier with how easy this rack was to put together. Things like this have the potential to be very frustrating to assemble, but the fit and finish on this was excellent! I'm most impressed with how sturdy it is with two bikes on it. I was also happy to find out how easy it is to adjust the individual arms. I love this thing!
Thank you for your feedback.
Cycling Enthusiast
Portland, OR
2 of 2 customers found this review helpful.
Sturdy, space saving stand
This stand may take a bit of time to assemble, but is perfect for making easy storage for 2 bikes, especially in a small apartment! The stand is sturdy and the arms are covered in a nice rubbery material so even carbon bikes can safely rest on this rack. Even if you slightly nudge a bike as you walk by, the stand doesn't move and the bikes aren't at all bothered!
Thank you for your feedback.