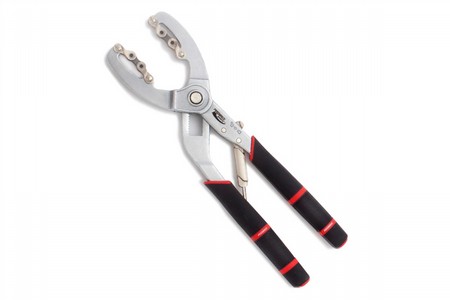 Had trouble with 22T cog; not sure how 26T would be possible
I was able to remove a 18T cog and a 22T cog with these. I bought them because I imagined they would be easier and more secure to use than a chain whip which I had never tried before. They were easy to use but they don't open very wide and it was a struggle to get them to clamp onto the 22T, so I can't really imagine them working well on a 24T or 26T. The product description advertises that they work up to 26 T, which seems to be a bit of a stretch to me.
Thank you for your feedback.
Cycling Enthusiast
Farmington, MI
Makes cassette removal easy
I hated chain whips for cassette removal with all that extra chain hanging and the rest of chain that was actually used got oily and dirty from the cassette....which was why the cassette needed removal in the first place. Now I have two dirty things. What a mess. These cassette pliers make that a thing of the past. Cassette removal is now a snap. Grab a cog with the pliers and with your cassette lock ring tool your adjustable wrench and twist; it's off. Wipe the pliers with a rag and put them away. Done. My only complaint is that I waited so long to get them.
Thank you for your feedback.
work well - tricky to figure how to open
I replaced my cassette for the first time with these and they worked fine. Obviously I don't have anything to compare them against. It was a bit fussy to figure how to spread the jaws apart, but probably less fussy than a chain whip. Those things look even fussier...
Value? Who knows?? Tools are pretty much always cheaper than paying someone else to do it.
Thank you for your feedback.
Cycling Enthusiast
Palm Springs, CA
Way better than a whip
This is one of the better single purpose tools I've added to the basic tool kit that I bought a decade or more ago. I always found the chain whip awkward to use. Maybe if I used it more than a couple of times a year I'd be better at it. Regardless, this pliers is incredibly easy to use and you don't have a greasy length of chain flapping around. Highly recommended!
Thank you for your feedback.
Cycling Enthusiast
Boston, MA
Great alternative to a chain whip
I have used a Park Tool chain whip for many years, and I hadn't even thought something like this existed until I saw it on BTD. My one complaint about the whip is it doesn't work as well on 11 speed cassettes, and this is so much easier and just grabs the 11 speed. Makes removal of cassettes a lot easier
Thank you for your feedback.
Cycling Enthusiast
Denfield, Ontario, Canada
Useful tool at a good price
This tool replaces a conventional chain whip. Chain whips aren't hard to use, but these pliers are easier. Where they really shine is when you need 2 chain whips for freewheel disassembly or Suntour cassette removal . Build quality is excellent. My only complaint is that, while you can lock the handles together for easy storage, when applied to a cog, the handles can't be locked in place.
Thank you for your feedback.
Competitive Racer
Mt Shasta, CA
5 of 5 customers found this review helpful.
Fab cassette removal tool
I am not a great mechanic, and in the past have at times struggled with cassette removal using standard chain whips. I purchase the Feedback Cassette Pliers to replace a Performance Spin Doctor chain whip that snapped while I attempted to change a stubborn cassette.
I've only used the Feedback Pliers twice, but it is noticeably more user-friendly and secure than the standard chain whips I have used in the past. Provides a really strong, secure grip. Highly recommended.
Thank you for your feedback.
Cycling Enthusiast
NE Florida
Cycling Enthusiast
SE Massachusetts
1 of 1 customers found this review helpful.
Better than a whip any day
Only used once so far this season but sooo much better than a chain whip�don�t even bother with that unless you like slicing your knuckles when it slips. Just buy this!
Thank you for your feedback.
Cycling Enthusiast
Pittsburgh