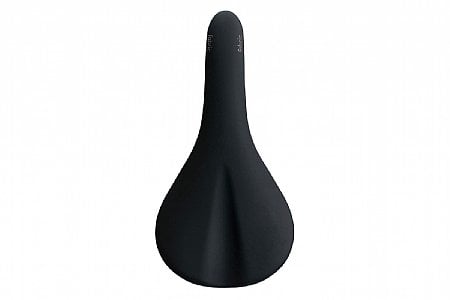 Cycling Enthusiast
N. Michigan
2 of 2 customers found this review helpful.
Well designed saddle , comfortable and durable.
Fabric makes really nice saddles with a subtle aesthetic I appreciate.
It is durable , has medium padding and medium width.
I use the flat profile and it works well for me.
My only complaint is that I wish they would publish accurate weights.
I have had all 4 versions ( all carbon, carbon rails, ti rails, and steel rails). That all weigh 15-25 grams more than advertised.
Great product.
Thank you for your feedback.
Cycling Enthusiast
Shawnee, OK
Comfortable saddle.
This saddle just works! Looks like it would never be comfy, but it is superbly so. I replaced a Fizik Alliante with the Scoop shallow on my Cannondale Supersix and have been very happy. Your butt stays planted and doesn't slide around, and the shape is perfect. The construction of the saddle allows it to be so easy to care for as well. I liked it well enough I now have two . one for the road bike and one for my gravel bike. You really can't go wrong with the price either.
Thank you for your feedback.
Excellent Saddle at a Bargain
Have done a few hundred miles sometimes 50 at a time, no issues. The saddle padding is firm but works well with good shorts. I ride in the standard position hoods and drops and find the saddle even better during hard efforts. Grip is excellent allowing as much movement as you want, but once in position you will stay there. For very long rides I'm curious about the Radius model, but not willing to spend again and after 3 hours on the scoop I think its a very good option for comfortperformance. 165lb rider, 20 years cycling.
Thank you for your feedback.
Cycling Enthusiast
Florida
Great Saddle
After a few hundred miles I noticed a slight perineum sensation after longer rides 3 hrs. Nothing while riding and no discomfort after, just a sensation suggesting there is obviously some pressure. So to be safe I've ordered the Line race Shallow to replace. Still, an excellent saddle just won't work for me all the time because some of my rides are very long. Up to 2 hrs nothing to report, excellent support, grip and the daddle actually has flex when you hit a bump. Think Fabric will be my preferred brand from now on. Cycling 20 years 165 lbs, 243mm model.
Thank you for your feedback.
Cycling Enthusiast
Las Cruces, NM
2 of 2 customers found this review helpful.
Most comfortable saddle for this stage of my life.
As I have gotten older I have needed to ride in a more upright position on my road bikes. I currently ride with my handlebars about 1 inch lower than my saddle. Even when I rode with my handlebars in a lower position I seemed to have comfort issues with anything over 2 hours. I purchased a Fabric Race Scoop 2 months ago and I think that it is probably the most comfortable saddle I have owned. I have ridden about 400 miles on it with the longest ride about 2.5 hours so far with no problems. The only negative issue is the finish on the titanium rails, it isn't as nicely polished as other saddles I have owned. I purchased the Scoop on sale and it was definitely the best bang for buck that I have gotten from a saddle.
Thank you for your feedback.
Cycling Enthusiast
Santa Cruz, CA.
2 of 3 customers found this review helpful.
Super Clean
I've been using the Shallow version of this saddle for a few months and it's done everything I needed it to do. I really like the clean lines and the smooth bottom of the saddle that makes it easy to keep clean. The shape works for me and the price was right. This is a great saddle all around for me.
Thank you for your feedback.
Competitive Racer
Corvallis, Oregon
0 of 2 customers found this review helpful.
Excellent Race Saddle!
I've now got one on my road bike and cross bike and I think I'll even get one for my mtb. I replaced my super overpriced expensive carbon rail saddle with this Fabric saddle for half the price. Excellent performance for long days in the saddle racingtraining. Love the clean look and of course it's very comfortable.
Thank you for your feedback.
Competitive Racer
N.Michigan
Nice well thought out saddle.
I have one of these Fabric Ti Scoop flat saddles on all 3 of my bikes.
They are light enough, very comfortable for me, not super narrow or too wide, well built, and easy to clean.
A person should be able to find one that suits them , as each Fabric model comes in 3 variations .
Thank you for your feedback.
Liked the one that came with a new bike so much I bought another
The Fabric Scoop Titanium Saddle is a reasonably priced, reasonably light saddle that supports me equally well on the hoods and in the drops. I've previously been a fan of the old-school Flite saddles and find this to have a similar feel with a superior cover. It keeps me in place, when I slid around on the Flite, without restricting my ability to move when I want to. I have a Fizik Aliante and found that to have too pronounced a scoop. This is less so. I've also ridden the Selle Italia SLR but the entry level model is no longer available and they wore pretty quickly.
Thank you for your feedback.
Cycling Enthusiast
San Jose, CA
2 of 2 customers found this review helpful.
Best Bang For Your Buck
I just got the Trek Domane endurance bike. On weekends, I like to go on long hilly rides on remote roads that are bumpy and not consistently maintained. I'm the opposite of clydesdale, I'm 5 7, 130 lbs with fairly narrow sit bones. Prior to purchasing this saddle, I tried the Arione Classic, Sella Italia Flite, and the Brooks C17 and the Fabric Scoop Shallow version. The most comfortable one surprisingly was the C17 but I just couldn't stand the look of the C17 so I took a chance on the Scoop Radius model. The longest ride I've been on w this saddle is 81 miles w 5,500' of climbing. Initially, I thought the shallow model would the bill but it felt a tad wide and I could feel the edges on my inner thighs. The Radius model slopes down more like the Brooks C17 so perhaps that's why it feels more comfortable to me. The Radius model seems squishier than my other saddles but have not bothered me any more than my other saddles. The curved top provides a secure feeling on long climbs unlike dead flat top saddles like the Arione. One downside of the saddle is that it's a little difficult to keep clean. Because of the rubber like material it tends to absorb dirt, smudges and grease much easier than other saddle materials. For the money however, you can't beat the saddle. It's sensibly constructed, comfy enough and looks decent, all major boxes checked, I highly recommend it. The trick is to figure out which shape (flat, shallow, radius) will work best for your needs.
Thank you for your feedback.
Cycling Enthusiast
Portland, OR
Cycling Enthusiast
Hudson, OH
Love this Saddle. Very comfortable, yet not overly plush. Very happy with this purchase.
I use this on my mountain bike. Given I like it, when time to replace the other saddles on other bikes, I'll likely look to use the Fabric Scoop on those as well.
Thank you for your feedback.
Cycling Enthusiast
Madison, WI
1 of 2 customers found this review helpful.
This seat is comfortable regardless of my position
I'm 60 and the seat that came on my new Ultegra equipped road bike cut into my thighs if I rode the hoods. It was okay if I was in the drops. After my first 40 mile ride of the season I new things had to change. The Fabric was an excellent solution to my issues.
Thank you for your feedback.