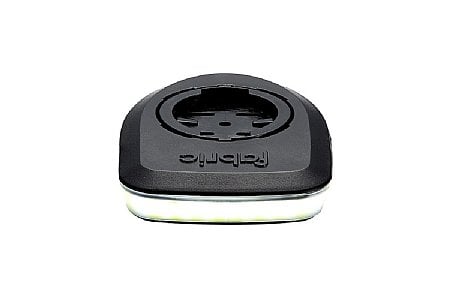 Cycling Enthusiast
Delavan, WI
A must have light when using a Garmin bike computer and wanting to avoid handlebar clutter
I use this product to provide the safety factor of a flashing light up front while not cluttering up my handlebar.
I like everything about it and can find no fault with the design or functionality.
Thank you for your feedback.
8 of 10 customers found this review helpful.
Fantastic idea, but...
The design is spot on, but ultimately it doesn't have enough lumens to be worthwhile on the majority of rides. In the dark, I was lighting up the area between the handlebars and around my front tire - nothing out in front. But I didn't think it could replace a traditional headlight. I primarily wanted it for day riding, using the strobe to make myself more visible to oncoming traffic. I think it did the trick in low lightsunset, but during the day, again, I don't think it was bright enough to make the desired difference. Here's hoping they can keep the same form factor but double or triple the lumens.
Thank you for your feedback.
2 of 2 customers found this review helpful.
Nice design! Low output...
This light has a great design. Im surprised I dont see more lights similar to this.
The output is very low and does not light the road at all. It is simply a blinker.
If it had more lumens it would be my go to, but currently its sitting in my parts box.
Thank you for your feedback.
Cycling Enthusiast
Long Island ny
5 of 5 customers found this review helpful.
Great idea
Great light for really ,- the daytime. And the fit under you wahoo or Garmin is great. Nice clean design. The wraparound led does a good job on the sides too for being noticed. Only thing the charge port is a little recessed, be sure you have a slim enough charger to get in to it.
Thank you for your feedback.
Cycling Enthusiast
Portland, OR
1 of 2 customers found this review helpful.
Seems good for its intended purpose
This seems like a good option as a daytime running light (I use it in 'flash' mode). The 'lens' of the light is frosted, I don't think there's any way that it's bright enough to illuminate a pathway at night (I don't ride in the dark, anyway).
Having said that - even in bright daylight it seems to be visible from far enough away that it's one more way to hopefully catch drivers' attention. The 270-degree wrap is also nice to give a bit if side-visibility.
I've had no issue with battery life, it probably really is somewhere around 7 hours in flash mode.
Construction quality seems good enough. The plastic housing isn't super robust, but it doesn't feel like it's going to self-destruct, either.
It really does clean up the cockpit - and as I already move my Garmin from bike to bike - it's dead simple to just move this as well.
Overall - no complaints, seems to do the job, solves a problem. I'd buy it again (esp if you can find it on sale - I got it on one of daily Leader's Club specials).
Thank you for your feedback.