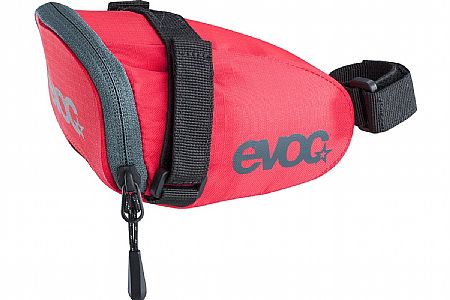 Does the job well
A little smaller than I was anticipating, but ended up being the perfect size for me. I was able to fit all my required spares. (Tube, CO2, tire levers etc). Fabric material seems sturdy enough and zippers works well, attaches firmly underneath seat. No much to add in terms of longevity but initiall impression is positive.
Thank you for your feedback.
by
Hammy thighs wiith slammed saddle
Boston
Daily Commuter
Seattle, WA
Exactly what I needed
I bought this is the greenish color. It was the closest to my frame accents. It holds a tube for my 38c tires, a set of tire irons, a park multi-tool with chain tool, a CO2 and CO2 accuator. Its a little tight so getting the mulitool out can result in dropped items but it looks as good as a saddlebag can and attaches easily.
Thank you for your feedback.
Competitive Racer
Maryland
2 of 3 customers found this review helpful.
Perfect size and durable build
The Evoc saddle bag fits unobtrusively under my saddle, but still has enough room to pack 2 CO2 cartridges, air chuck, 2 tire levers, spare tube, and a multi-tool. This is the third Evoc saddle bag I've purchased over the past few years, and I can attest to their durability.
Thank you for your feedback.
Cycling Enthusiast
NE Ohio
Performance Oriented, Not User Friendly
If your looking for a saddle bag where weight and aerodynamics are the primary focus, this is the bag for you. It will hold all the essentials, but getting to them is a little cumbersome. With the zipper a little forward of the end of my Sella Italia SLR seat, unzipping the bag is hard and with the sharp angle it is unzipped, I sure hope the zipper is strong! The bag overall does appear to be well constructed. Because of the way it mounts, it is very stable. I do have a larger saddle bag for those excursions where rain jacket and camera are necessary, but for the rides where you just want to take levers, gel, tube and keys, this is perfect.
Thank you for your feedback.