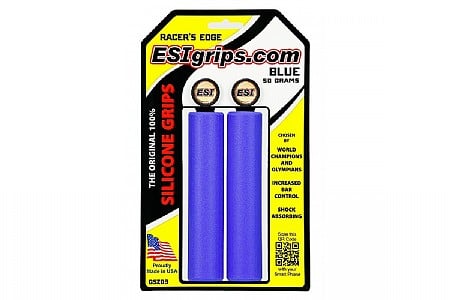 Competitive Racer
Corona Ca.
0 of 1 customers found this review helpful.
Great Upgrade
After years of using road bar tape on my MTB bike I thought I'd give these a try. I could not be any happier. The feel is good and comfortable but not soft. No worries about blisters either since I often ride without gloves.
Thank you for your feedback.
Casual Cyclist
South Florida
Cycling Enthusiast
Willamette Valley OR
I love these
These are my favorite grips for my mountain bike. They are tacky enough, but not too sticky. They hold up to all the abuse that I can throw at them, and still look great. Several of my riding buddies have had the same set for years without the need to replace them. As an added bonus, they are a lot less money then the lock on style grips.
Thank you for your feedback.
by
Mat B
(BikeTiresDirect.com Staff)
Competitive Racer
Portland, OR
My Favorite Grips
These grips rock! They install easily with a little rubbing alcohol and stay put after they set. Since they're silicone you can clean them with soapwater (even the white ones will stay white). They absorb vibrations well. Riders with average size hands will appreciate the diameter. Those with larger hands might want to try the chunky version, or ODI's Rogue lock-on grip (if you like a larger diameter grip).
Thank you for your feedback.