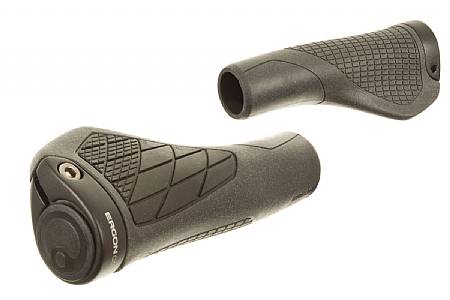 Cycling Enthusiast
Sacramento, CA
These Really Work Well
If you're like me and find that flat bars give you a pain the wrist, these are for you. I've got 3 kinds of Ergon grips for 3 different bikes, and they all give my wrists the support they need on a flat and cruiser handlebars. I've tried other cheaper grips that look similar to these, but they don't do the job.
Thank you for your feedback.
Cycling Enthusiast
Taipei, Taiwan
I'm just a happy, comfortable dork.
I've cycled for 35 years and have always been a traditionalist. I've steered clear of gadgety grips with wings and such, deeming them pointless, not to mention totally dorky looking. BUT - I just threw a pair on an electric bike I'm putting together for around town kind of stuff. Wow! These are awesome! You've got the same amount of pressure spread over three times the surface area. They are very comfortable and there is no penalty for this on an around town bike. I have small hands for a guy and the larges feel great to me. I don't wish I'd gone for the smalls, as I had feared. $40 for this big of a comfort difference is money well spent in my book.
Thank you for your feedback.
Cycling Enthusiast
Batesville, IN
Cycling Enthusiast
Oakland, CA
2 of 2 customers found this review helpful.
Great grips, super light weight and comfy
These grips are a terrific upgrade for any hybrid with traditional mountain bike grips. Much more comfortable than round grips, the Ergon's stay put. Highly recommend, especially if you can catch them on sale.
Thank you for your feedback.
Cycling Enthusiast
Santa Ana, CA