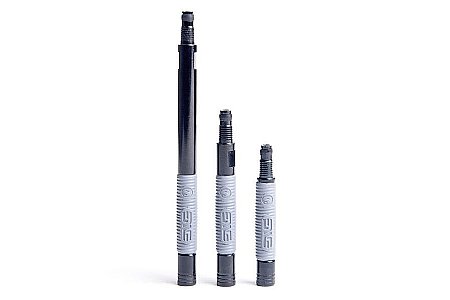 User submitted reviews
Review by SWF Rider

Cycling Enthusiast

SW Florida

Airing out my inner tube

The ENVE Silca Valve Extenders (30 mm) has expanded my inner tube options. I am using mostly tpu inner tubes with my wheels and the Quarq tyrewiz threads in the tpu's is hit or miss with sealing. These extenders seal well with the tpu's and holds pressure for days!

Thank you for your feedback.
Review by B Kuehn

Competitive Racer

Bend, Or.

High quality valve core extenders

I have used a number or different valve core extenders for deep section wheels, many of which are excellent. The Enve Silca extenders differ in that they are wrapped with a rubber end where they exit the rim. This appears to be a solution to the issue of the valve core extender having that annoying loose wobble which results in a clicking when the wheel rotates. The traditional solution is to wrap a thin layer of electricians tape around the extender before inserting it, the trick being to not make it too thick. While the Enve Silca end seemed a good solution I found that in the rims I was installing them in (tubular 88mm wheels w the extender installed on Vittoria Corsa Speed 23mm tires) the rubber bit was just a little too thick and worked it's way off while pushing the extender through the deep section rim. I imagine this problem may not be an issue on other wheels and or somewhat shallower rims. Otherwise they are great and I didn't find too many other core extenders of suitable length to work well with the 88mm wheels.

Thank you for your feedback.