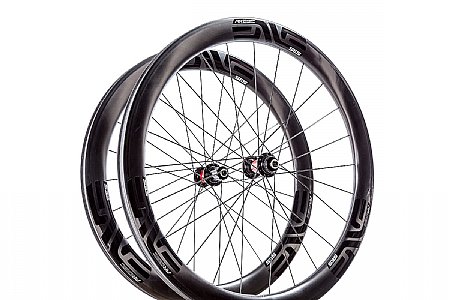 Cycling Enthusiast
Houston, TX
Simply Fantastic!
These are my third set of Enve wheels...Got tired of reliability and warranty issues of Zipp and their dodgy hubs and have never looked back.
These Enve AR4.5's in particular Put them on a Trek Boone. My first tubeless rimset. Tubeless for a cross bike is the way to go! Light, fast, stiff, and backed by support from Biketiresdirect and Enve helping me through interface issues of disc mounting, etc. As good as the product itself is, I can't say enough good about the staff and support from these two companies. Thank You!!!
Thank you for your feedback.
Cycling Enthusiast
California
3 of 3 customers found this review helpful.
Best Aero wheels for wider tires
Got them with the DT240's and I'm running them with a couple of bikes that have a mix of QR, 12mm Rear and 15mm front thru axles (bought the adapters for about $30 each and are very easy to switch). So far have only ran the Schwalbe Pro One's 28mm which measure out at right near 32mm on these rims making them the same size at the outer rim. The mounting was one of the easiest I've had for tubeless, used the Lezyne Pressure Over Drive and it had no problems seating.
I have about 1000 miles on them so far mostly on road with some amount of light gravel. They are very fast, handle well in the wind especially given the depth. I'm running about 50-55 PSI and the combination of tires and wheels is very comfortable at that pressure even on really bad roads. They are not inexpressive but so far I'm very happy from a value performance perspective.
Thank you for your feedback.
Cycling Enthusiast
Long Island
0 of 1 customers found this review helpful.
Great wheels
Got the Chris king hub option. BTD had a super sale on Black Friday. Only way I would get them. For price resons. Put them on a 2018 trek Boone 7. Truly a go anywhere wheel set. Go on road, gravel, and even hardcore single track . They are so wide internally(25mm) that you have account for the increased sidewall gerth. I used wtb crossboss (35m)at about 35 psi. They measure 38-39mm. And tried Panaracer gravel king 38mm. They are almost 41mm. Sick. Also for group rides tried Schwalbe g one speed 30mm measures 32-33. Obviously all tubeless, envy recommends only tubeless tires. Only thing give some lead time on tire mounting. Try to put a new tubeless tire on a regular rim with a tube for at least a day or longer to loosen it a bit. You will need a charger reservoir pump. Super fast , light and strong. The ultimate dream wheel-set.
Thank you for your feedback.