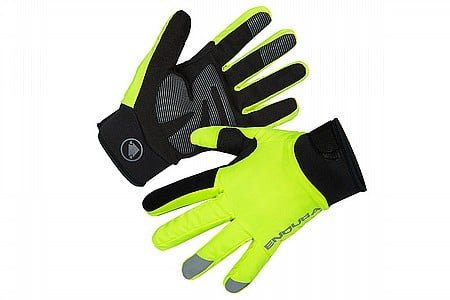 User submitted reviews
Review by nhmtnbkr

Cycling Enthusiast

Nashua, NH

Decent glove overall, warm

I bought these principally to wear for road bike riding, since I have been having an absolute bear of a time with hand pain/tingling/numbness while riding, due to cumulative impact of 40 years of mountain biking and 30 years of road biking on my hands, much of which came from unknowingly have bad cockpit setups before ergonomics became better understood in riding.

In recent years it's been really hard to find good road gloves that tamp vibration down and inhibit numbness, because so many manufacturers have cut down on their padding and/or come out with moronic designs, particularly in cold weather gloves. These do a decent job at damping road vibration, but aren't stellar, kind of middling. I like they have gel padding along the nerve sections at the bottom of the palm, across they bottom of the finger joints and angled across the palm for tamping vibration when holding either parts of drop bars.

They are quite warm from low 40's down through the 20's. Fit for a large is a touch small, but not too tight when they stretch some that they're constrictive. The cuff design is good, fits under Winter layer sleeve cuffs well and eliminates drafts. The only other challenge these have is the interior liner comes out slightly when you get sweaty and take these off, so they can be irritating to get back on when if you take them off mid-ride. Haven't yet tried them in wet, so can't speak to their waterproof state.

Thank you for your feedback.
Review by nhmtnbkr

Cycling Enthusiast

Nashua, NH

Warm gloves, gel padding ineffective

These gloves are decent, but not great. The good: waterproof, warm down through the upper 20 degree range and well-fitted. The needing improvement: gel padding is meh, doesn't work well in road bike riding for absorbing the sustained pressure on the bars because the pads compress too much, and should be come down further on the bottom edge of the palm by another 1/4" or more for optimal coverage. The liner is a bit of a pain, tends to come out when taking the gloves off after sweating.

Thank you for your feedback.
Review by Bobby B

Daily Commuter

Portland, OR

2 of 2 customers found this review helpful.

Best high viz gloves for this time of year

50 bucks for a waterproof glove is the jam. Great for my commute, but I use them MTBing as well even tho my friends make fun of the high vis yellow on the trail. they have very little style anyway.

Thank you for your feedback.