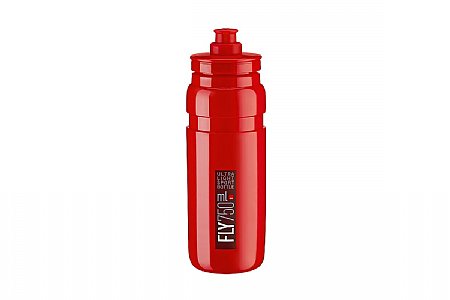 This is a GREAT bottle
It is light, the cap is easy to open with your teeth and the flow is great! You could technically drink out of this bottle without squeezing it. Wide mouth makes it easy to add ice cubes or sports drink powder. Also the walls of the bottle are easy to flex, which comes in handy if you like to freeze one bottle before hot summer rides. The bottle is easy to keep clean. Tolerates the dishwasher well. Nicest bottle I have ever used in my 42 years of cycling. It also comes in 950 ml.
Thank you for your feedback.
Easy squeeze
Simple, lightweight, easy to squeeze, secure no leak lid, and easy to use pull valve, however, the mouthpiece is a little big and the bottle kind of slippery. I'm used to Camelback squirt valve and this is not that. Quality bottle.
Thank you for your feedback.
Love these bottles
I love these bottles because the spout opens easily but still doesn't leak when it's closed. I also love that the simple design makes them easy to clean. It's nice that the bottles are flexible so they slip in and out of cages easily. Only draw back is the label wears off fast and the bottles scuff easily.
Thank you for your feedback.
3 of 3 customers found this review helpful.
Best Bottles I've Owned
The Elite Fly bottles are by far the best I've owned. They're light and very easy to keep clean. Inability to keep the bottles clean after 4-6 months is usually my primary complaint with most bottles. With most bottles (even expensive ones) tiny particles tend to get stuck in the thread grooves and in the underside of the pop-top. I do not have this problem with the Elite Fly bottles. The design of the Elit Fly is simple yet effective. I now own 6 of these bottles and have stopped using anything else. They just work!
I will fully acknowledge the criticism about lack of insulation, but these bottles aren't intended to keep your dink of choice cool for hours on end. To be perfectly honest, these bottles are horrible at keeping your liquid refeshment cold. However, that's not why I use them. I really don't care if my drink stays cold.
I want a light, reliable bottle that allows me to easily and quickly get water down my gullet, and which is easy to keep clean. The Elite Fly delivers in spades.
Thank you for your feedback.
Nice bottles
These are very nice bottles. They are WAY lighter weight and thinner than any other bottle I've ever used. But that has not been a problem. I have not experienced them staying compressed like other folks have said here. A big advantage to these bottles are they are VERY easy to keep clean. The nozzle detaches from the top so its easy to clean everything with soap and water. No more crud building up in the spout.
Thank you for your feedback.
Best Bottles I've Owned!
The Elite Fly water bottles are light, provide great flow with a normal squeeze, and the best part is.... they're easy to keep clean!!! I really don't care about insulation and how long my drink will stay cold if I can't keep the bottle clean. So, if you have simple needs and just want a solid water bottle that's easy to maintain then the Elite Fly is your ticket to happiness!
Thank you for your feedback.
Cycling Enthusiast
dallas, tx
Good bottle
It�s a bottle and works as advertised. Bought to fit into a tight bottle area on a mountain bike frame. It fits so mission accomplished. The one downside is the plastic is very thin and flexible flimsy so it squishes too much when inserting into a side entry cage.
Thank you for your feedback.