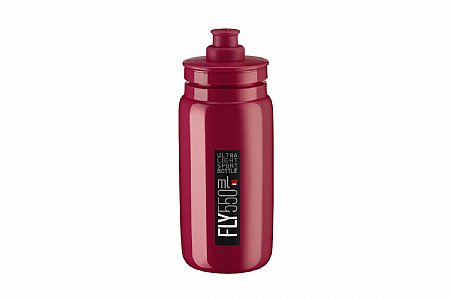 Featherweight water bottles
Fantastic color choices featherweights,If your weight- weenie These are 31.3 grams less then a standard specialized water bottle.
Your best bet is to use these for your Short fast group rides or crit races,
I have no issue with these leaking Easy to clean to.
Thank you for your feedback.
Lowest profile 550ml bottle I've found
I'm not a tall guy and I like riding with a revelate design frame pack. When I do, these bottles fit perfectly underneath in my bottle cages and not protrude too much into my frame pack. Yes, I'm also using one of those bottle cage adapters that lets me mount the cages lower. I just wished there are also lower profiles frame packs out there.
Thank you for your feedback.
Competitive Racer
Portland, OR
My New Favorite Bottle
The Elite Fly Bottle is my new favorite because it's made of a nice squeezable material, it has a straight shape with a large mouth that makes it easy to fill, and it's lightweight. The cap secures nicely with no leaks, the nozzle delivers fluid quickly, and the whole thing cleans up easily. I didn't know a bottle could be this good.
Thank you for your feedback.
Cycling Enthusiast
Laconia NH
Competitive Racer
Portland OR
2 of 2 customers found this review helpful.
Avoid - virtually impossible to drink out of one-handed.
Avoid this water bottle. It's so flimsy that it collapses when you flip it upside down to drink out of it. Also, the nozzle is so loose that by pressing against it with your lips you automatically close it. So impossible to drink out of with one hand. Need one hand to keep the nozzle from closing and the other hand to squeeze the bottle. Pointless.
Thank you for your feedback.
Daily Commuter
Eugene, Oregon
Disappointing
I bought three of these bottles to use on my indoor trainer. Unfortunately, one had a small hole in the bottom in the injection site that dripped incessantly, one leaks around the nozzle when I drink, and one works fine. I'm not too broken up about it because I purchased these on closeout at a ridiculously low price. It didn't seem worth the trouble to go through the return process, etc. just for a few bucks. So hopefully BikeTiresDirect has exhausted their inventory of these pitiful products and I will try to be less of a cheapskate in my future purchases.
Thank you for your feedback.
Cycling Enthusiast
N.Michigan
Light as claimed with some problems.
I bought this to check out the claims. Yes, you can save some grams. However, the plastic is very thin as expected and it can stay sucked in after taking a drink as the valve self-closes and then it doesn't fit in the cage correctly.
I wouldn't use it as a daily bottle, but I will save it for Strava hunting ,-)
Thank you for your feedback.