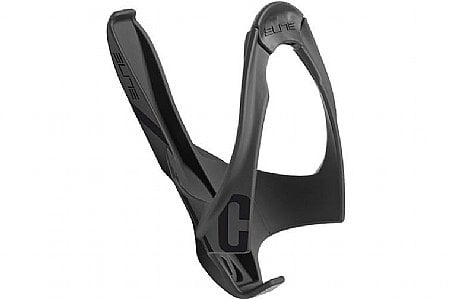 Cycling Enthusiast
Pioneer Valley
2 of 2 customers found this review helpful.
The pit bull of plastic cages
So many cages, so few work when the rider is faced with limited frame clearances. I stumbled upon these, watched a promo video out on the net and said, why not? I already have a box full of cages that just don't work for my tiny 43cm road bikes! Ah but, Elite nailed these cages, I've actually bought two more sets for my other bikes. Bottle removal is a bit harder for my tiny hands, but on the good side, I never loose a bottle in the pace line. Very easy to aim and insert after drinking too. Plastic is the only scary part for me since I've mostly stuck to metal in the past, we'll see and hope they can withstand a few years. My advice would be treat them like a helmet or tubulars, don't leave them melting in the car after a summer ride, I think they'll be fine.
Thank you for your feedback.
Cycling Enthusiast
White Mountains NH
1 of 1 customers found this review helpful.
Light and strong.
I have two Elite Cannibal water bottle cages on my road bike and ride 150 miles per week. My bike frame flexes and breaks water bottle cage like crazy. These cages are light but strong. I have beat the heck out of them and so far they have not failed. Once you get used to the sideways way of removing and replacing the bottles, it is quick and easy. The bottles are stable in the cage, for sure.
Thank you for your feedback.
Cheaper than carbon
I like the plastic.cages because of cost and weight. I like to be able to grab my bottle without looking for it and at the bottom so I can just squeeze and drink. I'm able to do this with this bottle. Putting back without looking is a different story you can push it through the side which means dropped bottle
Thank you for your feedback.
1 of 2 customers found this review helpful.
Can't get my water bottle out!
Saw this feature where you and remove your water bottle somewhat from the side. Have a Camelbak Podium watrbottle and you have to pull on the bottle so hard (not even from the side) to get the thing out, it feels like you're gonna pull the bolts that attaches the holder right out of the frame! At least no matter how hard you tweak on the holder, it won't break. Prob a smaller bottle to get this thing to work like it was designed to do.
Thank you for your feedback.
Cycling Enthusiast
Spokane, WA
Cycling Enthusiast
Portland
Very nice, light and durable cage.
Needed a cage with grip and durability for me gravel bike. WB had these on sale and it works perfect. Only issue was I got the last one!! Hopefully they get more in so I can add another couple to my bike.
Thank you for your feedback.
Cycling Enthusiast
Portland, OR