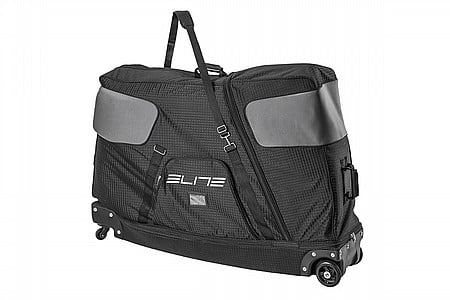 Too small
I have a 56cm road bike with 40cm handlebars , a 120cm stem and SRAM Red shifters. Getting the bike to fit is not even close. I struggled so much to get the bag around the handlebars that it moved my shifters significantly and still no way. Even when I took the handlebar pads off, I couldn't get the case zipped.
Even though the handlebar pads were a giant pain to get on, everything else was thoughtfully put together and could have worked well. The case definitely doesn't provide protection against heavy objects placed on the bag but would probably provide ample protection against getting knocked over and most bumps.
Thank you for your feedback.
Competitive Racer
Minneapolis, MN
1 of 1 customers found this review helpful.
Great Protection and Easy to Pack
My bike has integrated stem/handlebars. This bag is perfect - I don't have to remove the handlebars or move the seat, just remove the pedals. The bike is very secure once packed. An added bonus are the disc rotor protectors and two 2-wheel bags so you can take both sets of wheels. Fits within the size and weight limits and is very easy to move around the airport. A little more expensive than other bags but it's totally worth it!
Thank you for your feedback.