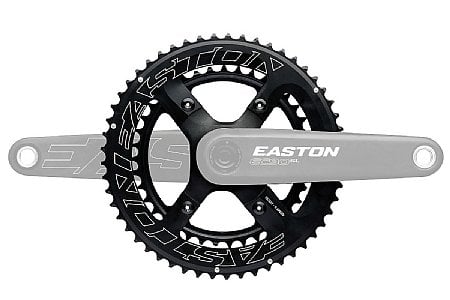 Cycling Enthusiast
Seattle
7 of 7 customers found this review helpful.
Update on aftermarket rings
This is an update on my previous review. I switched to Praxis cold forged rings of the same size, and the chain drop issue is gone. It may be due to teeth profiles as the Easton teeth seem a fraction shorter than both Shimano and Praxis.
Thank you for your feedback.
Cycling Enthusiast
Seattle
9 of 9 customers found this review helpful.
Shift good, stiffness may be an issue for strong riders
They shift great, just a touch slower than Shimano DA, but no issues there. I run the 52t up front, and I feel the big ring is too flimsy under high load. When sitting in the big ring and a small cog, if I jump on a max effort sprint, the chain would often slip off the front ring on the outboard side with a snap, as if the chain angle to the small cog in the back was forcing the chain off the ring, maybe combined with the ring deflecting outboard. I adjusted the front drailleur (Etap) so that it would gently rub on the outboard side, even then, tHe chain still pops off under high torque. Plan to try aftermarket rings to see if it helps.
Thank you for your feedback.