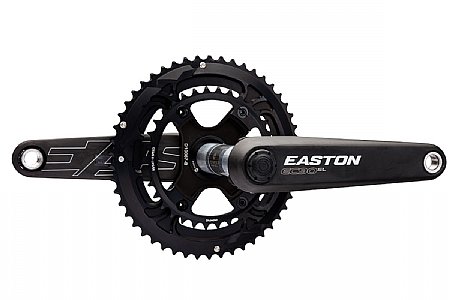 Cycling Enthusiast
Seattle
6 of 6 customers found this review helpful.
Another follow up, replacement power meter went south
Another follow up from my last two reviews. My replacement power meter did great upon first charge and use with just over 1500 mi before needing a recharge. However, the next cycle only lasted 500mi, then 500mi again. Then it dropped consistently lasting only 100-200mi between charges. Other than the batter performance, the meter has worked great. I was at 2400mi total, when I returned the power meter to Easton and they sent me a new one via warranty. It took a little over 2 weeks. I was told a capacitor on the chip had gone bad. So, Now I am on my 3rd one, hopefully it will last this time.
Thank you for your feedback.
Cycling Enthusiast
Seattle WA
12 of 12 customers found this review helpful.
Follow up long term review.
Just a quick follow up on my first review. My replacement power meter has been working great. The battery life has been exceptional, Im trending towards 1000mi on a charge. Every now and then, it would take time to wake when in sleep mode (a few miles), but the latest firmware seems to have fixed that. The power meter is working well. Ive replaced the chainrings with Praxis cold forged rings and have not had issues with dropped chains any more. Inspecting the teeth, these new rings have slightly taller teeth, so it may be more an issue with chain retention than ring flex. My Shimano rings have similar height teeth as well to Praxis. The slightly shorter Easton teeth may allow the chain to walk off the ring when at extreme angles and high torque. So overall, Im pleased with the crank and meter now, but chainring teeth profile may need more optimization.
Thank you for your feedback.
Cycling Enthusiast
Seattle
21 of 21 customers found this review helpful.
Mixed feelings, good product that could use stiffer rings.
There are not very many reviews on this Easton Power Cinch double crank. I took a dive and decided to go for it. I have used the standard non power Cinch crank with an Easton 1x ring and it is a fabulous product. The rechargeable spindle mounted power meter seduced me the most. Having used another brand power meter for a good number of years on multiple bikes, the thought of not having to keep adding to my pile of coin cell lithium batteries was appealing, let alone dreaded dead batteries due to water infiltration and what have you. The advertised battery life is stellar, but what will the real world experience be like?
So here we go. Mechanically, the crank arms and spindle and as awesome as the standard, essentially the same. The spindle has a central cover assuming there is some sort of torque load cell there. Mounting was a breeze, charged up and connected via Bluetooth quickly to my iPad to update the firmware. The Easton account and login (required for updates) was a bit hard to figure out at first, but once in, it an issue. Calibrated quick and the meter seemed accurate and work well for a few months using ant. Then sometimes during rides, the meter would read zero for a few minutes. Maybe twice during a ride it would do this. It would say connected but would read zeros. If I forgot it and tried reconnecting, it would not pair, and tried Bluetooth with different rates of success. Then a bit later as the rains of autum set in, the battery started to drain quickly. It would go dead after a few days. Every time I charged it, it would do the same. It would work while it had juice left, it just would not last but a few days. Then some days it would read power level that seemed off. Something was definitely wrong. I recorded the battery history for a few weeks and contacted Easton and shared my data. They replaced it with a new spindle, and its been working great since. I have yet to run the battery dry, it lasted a few months before the original started going bad, and the new one is still going on a few months, but at the rates they have been wearing down, it seems like they will last a good long time. I purchased a second one, and has been working fine.
Now onto the chainrings. They shift great, just a touch slower than Shimano DA, but no issues there. I run the 52t up front, and I feel the big ring is too flimsy under high load. When sitting in the big ring and a small cog, if I jump on a max effort sprint, the chain would often slip off the front ring on the outboard side with a snap, as if the chain angle to the small cog in the back was forcing the chain off the ring, maybe combined with the ring deflecting outboard. I adjusted the front drailleur (Etap) so that it would gently rub on the outboard side, even then, t
Thank you for your feedback.