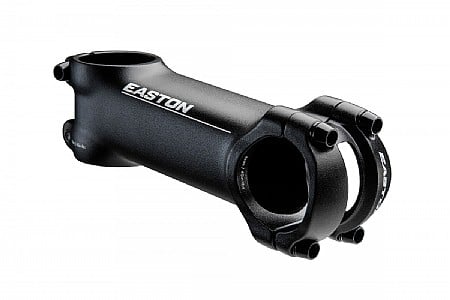 Cycling Enthusiast
sf bay area
Very good product
Nice stem, usable in both up and down degree positions. Easy to install. I think the Top-Lock feature is bogus, but I used it, tightening top bolts fully. It worked. I now have these stems on two bikes. Another plus is you can get the stem in a short length if you need it.
Thank you for your feedback.
Cycling Enthusiast
Nashville, TN
1 of 1 customers found this review helpful.
Easton EA50 Stem
I had built up a disc brake road/gravel bike from an allow frame that I thought should have fit my wife. It ended up not being a great fit for her primarily because of her discomfort with road geometry and drop bars. She now has a nice Detroit bikes comfort cruiser that she loves. So, that left me with a bike that I had hand spec'd and built myself. I don't want to sell it. I decided maybe I could outfit this bike to fit me and that's where the Easton stem comes in. I first tried the EA50 in 100mm +/-17 degrees, which was not quite long enough. So, I came right back Bike Tires Direct for the Easton EA70 Stem +/- 7 Degrees - 120mm and it is perfect. Good price. Solid construction. Nothing too fancy.
Thank you for your feedback.