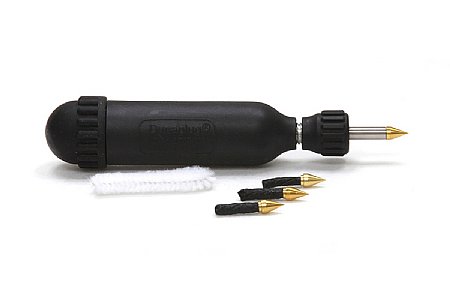 Cycling Enthusiast
Northwest Arkansas
You don't know how much you need a plug kit until you do.
A fellow rider recommended the Dynaplug brand so I ordered this kit for gravel riding. Many plug kits can be pricey and I didn't want to spend at or near the same amount for a new tire (or tires) for a complete kit but wanted something slightly more basic with just the same effectiveness. For me, the Carbon Ultralite Tubeless Tire Repair Kit is exactly what I needed. If you don't get flats that often, like myself, then I would recommend this kit. The only thing I wish this kit had is one of the mega plugs just in case the regular plugs don't work. Something sharp to cut off the excess plug material would also be helpful but at that point a complete kit would be better.
So far, this kit has worked perfectly for my first flat in what seems like forever. The rear tire held air once I found the cut and I was on my way in less than 10 minutes. The hole was about the same size as the repair plug barb (thankfully) but wouldn't plug tire when inserting straight down. I was able to plug the tire after holding the barb at an angle and squeezing the tire to get some leverage. The tire still held air for the rest of the ride and all the way home with zero issues. Thanks to this simple but effective kit, I got to focus on the ride and enjoy it without worrying about another flat. Just make sure you don't forget any leftover plugs when you're finished as they're easy to lose! Also, before you roll on, I'd advise cutting off the excess plug material (if possible) and as long as you have a safe place to store the holder, you shouldn't have any issues with the cap coming off.
Sooner or later you're going to need something like this and being prepared is better than asking other riders in your group for their plugs. I always say "it's better to have it and not need it than need it and not have it." So, get one! You won't regret it.
Thank you for your feedback.
Competitive Racer
Arkansas
1 of 1 customers found this review helpful.
It Works!
I have been using innovation bacon strips for some years and they are too thin for most of my punctures. I have to usually double them up to be thick enough to seal the hole. Dyna plugs are perfect every time. No looking back.
Thank you for your feedback.
5 of 9 customers found this review helpful.
Bikepacking the Great Divide I don't think so
When I had a puncture it came time to dig this tool out of my bag. When I found it the cap had come off the handle and the plugs which I expected were in the handle were now loose in the bag with a few other tools. Once I found the rubber sticky plugs and pealed them off some other items they were ready for use. For bikepacking this is not the tool. Something smaller and able to keep the plugs contained would be in order.
Thank you for your feedback.