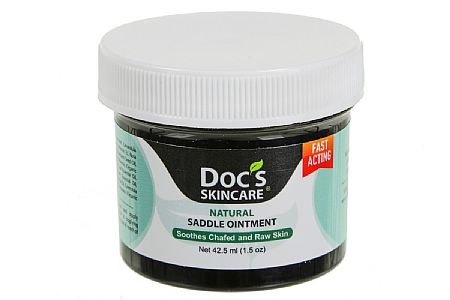 Cycling Enthusiast
Brons, NY
1 of 2 customers found this review helpful.
Aaaaaahhhhh...
Yep.... your ass will feel (and smell better, sorry tmi)! Fellow cyclist of 30 years recommended I get some as I developed a saddle sore this summer after many hours on the bike. Treated the sore with some Ichthammol Ointment first, which drew out the funk, then used Docs which really soothed the whole ares. Used the rest of the summer with no sores.
Thank you for your feedback.
Cycling Enthusiast
St Pete,FL
Cycling Enthusiast
Tryon, NC
Competitive Racer
Portland, OR
1 of 1 customers found this review helpful.
Not a chamois cream, but dramatically helps between rides
Doc's Saddle Ointment shouldn't be mistaken with actual chamois cream, because it's not. But it is fantastic to use post-ride to prevent and sooth saddle sores. I use it in addition to Doc's chamois cream, particularly when I'm putting in 10 or more hours a week, and this helps prevent issues with saddle sores. Also, the smell is an added bonus. My only complaint is that it is a little bit greasy, but is worth it for the benefits.
Thank you for your feedback.
Cycling Enthusiast
Tryon, NC