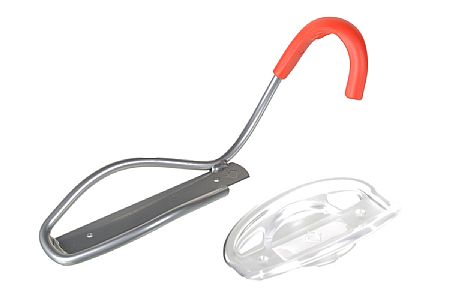 Cycling Enthusiast
CB Iowa
2 of 2 customers found this review helpful.
Very well made
Keeps my hybrid and road bike out of the way in my work shop. Very well made and stronger than they look. i hang the bikes by the front tire and use the other piece for the rear tire which keeps the tire marks off my wall.
Be sure to use a stud finder to locate a good mounting surface. A little pricy but well worth it.
Thank you for your feedback.
Cycling Enthusiast
Brush Prairie, WA
Not Bad
Arrived quickly, packaging was appropriate. I'm using two combos, one for a hybrid, the other for an old school fat tire mountain bike. There's truth to the reviews regarding ease of use for bikes w/bigger tires, I believe its mostly to do with clearance between the wall and the end of the hook. 3 by my measure, just enough to route the tire thru and catch on the main part of the hook. Thought about shimming the rack up with a 1x3 strip of wood between it and the wall, but with a bit of shoving, my tire fits thru without doing so. Also, I reamed out the mounting holes to 516 diameter to fit larger lags, the rack acts like a fulcrum with the weight of the bike(90's vintage trek composite) and may pull away from the wall with narrower screws. Otherwise, its a sound product.
Thank you for your feedback.