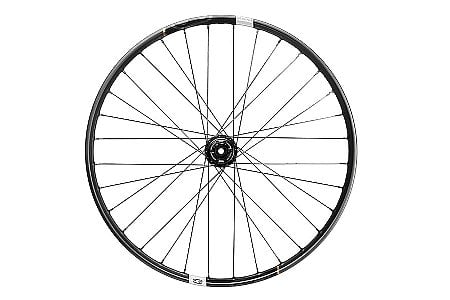 Snappy, buttery smooth, very strong!
So I've been around a while and have used a variety of wheels, both carbon and alloy, hubs of all price ranges, road, and mountain bike. I am really impressed with this wheelset. The idea of a ride tuned wheelset may sound like just another gimmick, but in practice it's actually quite nice to have a compliant front wheel, and a stiff rear wheel to track through challenging terrain.
The wheel-sets from Crank Brother's past where a bit too silly for my taste. I would have never purchased them on looks alone, but they also did not get good reviews. The new Synthesis wheels take the best of classic wheel design, new thinking on rim width, rim depth, and tire selection, and combine it to make an easily serviceable, strong yet compliant, great looking wheel set! Compared to other rims the profile is flatter, and less deep, aerodynamics be damned! This allows for longer spokes, which in turn adds compliance.
The set I purchased was built around what I believe to be one of the the best hubs, Project 321, with 6 magnetic pawls and 144 points of engagement. They make technical climbs a breeze, and I love how quiet they are!
When they arrived, I was impressed with them straight out of the box. Tubeless tape and valves where already installed, and tire mounting was a breeze! I set mine up with 2.8 front and 2.6 in the rear! Love them!
Thank you for your feedback.