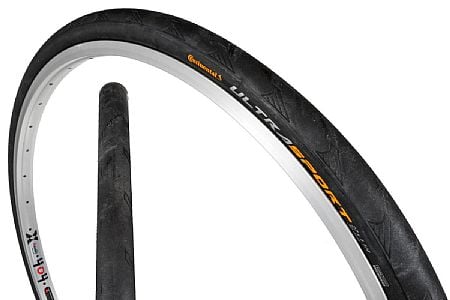 Casual Cyclist
South Bend, IN
A great name in tires with a unique product in this price range.
This is a very grippy compound that is treadless (slicks) at the center contact patch. My experience with the product is limited to dry asphalt, where they are quiet and precise. I have gotten comments from folks thinking the tires were worn out and bald because of the lack of center tread.
Thank you for your feedback.
Cycling Enthusiast
northern calif
8 of 13 customers found this review helpful.
Overall Tire size is large
My tires size 27 in. for a daily commuter road bike. Seems like a good tire. However, as stated in other website reviews when full of air and installed the overall size of this tire increased almost to make contact with the bike frame and brakes caliper system. Make sure there is enough space for this in your bike. To install or remove the tire I need to remove all the air from the tire. There is about 18 in or less clearance between the tire and the calipers.
Thank you for your feedback.
Casual Cyclist
Portland, OR.